Marvel Games Creative Head on Crossovers and More
Published 08/17/2020, 6:55 AM EDT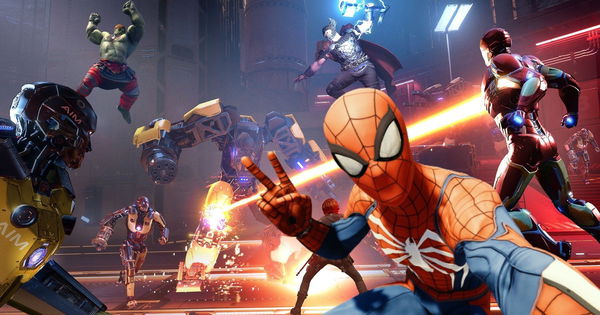 ---
---
Marvel's Avengers is one of the most anticipated titles that will release later this year. Marvel Games have always held a strong fort in the gaming community. Spider-Man makes a good case for this and the new Miles Morales spin-off will likely prove to be a big game for Marvel and Insomnia. Marvel's gaming executive, in an interview with Entertainment Weekly, stated that Avengers and Miles Morales will be set in separate universes.
ADVERTISEMENT
Article continues below this ad
Bill Rossmann on Marvel games being set on different universes
As he stated in the interview, Marvel Games' Head of Creative Bill Rosemann believes in the power of video games.
ADVERTISEMENT
Article continues below this ad
"We're happy that more people than ever are discovering — even though you may be physically in different areas — [that] games can bring you together and create connections."
Marvel has some huge franchises under its belt. Naturally, crossovers have always been a big part of it. Alas, we may not see it happen in its video games anytime soon.
Bill admitted that he is not really open to the idea of combining the two 'realities.'
"Each game is in the Marvel universe, but they're in their own reality, if you will. Currently, our plan is to keep each game set in its own Marvel universe."
While Spider-Man will feature in Marvel's Avengers, it won't be the protagonist from PlayStation's exclusive. It'll be just another DLC character.
Other Marvel characters or story arcs may or may not be a part of the upcoming Miles Morales spin-off. However, there wouldn't be any crossovers of storylines or universe.
ADVERTISEMENT
Article continues below this ad
Strategy going forward
Rossmann also said that they're currently focussed on making the upcoming games perfect. That certainly shows in the trailer and gameplay footage.
"I'll just say we're concentrating really hard on making Marvel's Avengers, Marvel's Spider-Man: Miles Morales the best games possible."
ADVERTISEMENT
Article continues below this ad
Let's hope they do manage to deliver two well-crafted games that will provide us with some fulfilling entertainment.
Spider-Man on PS4 was a grand success and it set the benchmark for superhero games. The upcoming games have their work cut out for them but if they do manage to deliver, we're in for a treat.
Trending Stories