Marvel's Avengers: Beta Drop Dates, New Avenger, War Zones and More
Published 07/29/2020, 4:51 PM EDT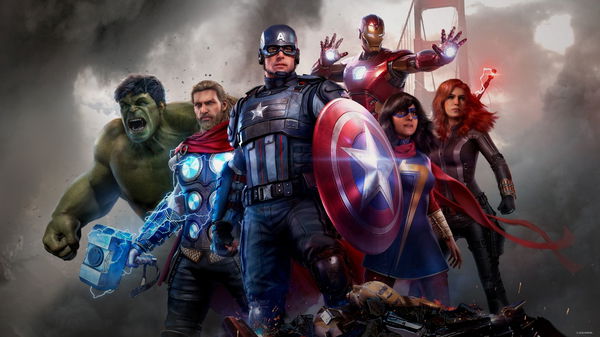 Marvel's Avengers is an upcoming game by Crystal Dynamics that is set to release on September 4, 2020. The game follows the story of the post-A Day events, where the Avengers have gone into hiding, and AIM has taken control. MODOK is the main antagonist of the game and the Avengers come together to put an end to his plans of getting rid of superheroes.
ADVERTISEMENT
Article continues below this ad
So far, we know that the game will feature campaign and multiplayer co-op modes. The single-player campaign will be accessible through something known as a 'War Table.' You will be able to access both Hero Missions and War Zones from here.
Marvel's Avengers Beta plans
ADVERTISEMENT
Article continues below this ad
Here comes the good news. Everyone who has pre-ordered the game will get beta access. But, this beta will be released in 3 stages in August. Confused? Take a look at the announcement on the official to understand it better
August 7 – PlayStation Advantage Pre-order Beta: As part of our PlayStation Advantage, those of you who have pre-ordered Marvel's Avengers will be the first in the world to get your hands on Earth's Mightiest Heroes the weekend of August 7-9. Pre-load: August 6.
August 14 – Open Beta: The second Beta weekend will be open to the entire PS4 community as part of our PlayStation Advantage partnership. Pre-load: August 13.
August 21 – Open Beta: Same as the above — our final weekend is also an Open Beta for all PlayStation players. Pre-load: August 20.
This should clear all your doubts. But wait, it gets better. So far we know that the playable Avengers will be Thor, Iron Man, Black Widow, Hulk, Captain America, and Ms. Marvel. Now, Hawkeye is also officially announced as part of the post-launch plans for the game. Take a look at his intro:
So now, you will get to play as the original six Avengers. How cool is that? If you think it doesn't get any better than this, think again. The beta will let you experience every single mode and is still only a small chunk of the full game.
For starters, you will be able to play the A-Day demo. There is also a boss battle where you will face Taskmaster, Black Widow's archenemy. This demo will give you a closer look at the combat experience of the game.
Hero Missions, HARM Challenge Rooms, and War Zones
Next up are Hero Missions. These are the main storyline missions of the single-player campaign, particular to one or more Avengers. In the 'Olympia' mission, you travel to the forests of the American Pacific Northwest region. Hulk and Ms. Marvel will be the ones on this mission to find JARVIS. You will also be faced with a familiar foe as part of the boss battle.
After the 'Olympia Archive', Hulk and Kamal will then go to Russia for another mission called 'Missing Links'. There, you'll be tasked with uncovering SHIELD secrets here.
You can test your combat abilities with different Avengers in these HARM Room challenges. The official PlayStation Blog reads,
"The Beta will test your grit through Marvel's Avengers' Holographic Augmented Reality Machine rooms, also known as HARM Rooms. These virtual training simulators let you take on increasingly difficult waves of enemies with other players, or with companion AI. In the Beta, you'll unlock three HARM challenge rooms, which are called Excursions when chained together in the full game. Once you best the three rooms, you'll earn a Nameplate that carries over to the full retail version of the game."
If you don't already know about the 'War Zones' in the game, you can read about it here.
The blog reads: There will be five Beta War Zones to play, filled to the brim with human and robotic AIM baddies to beat. In the full game, War Zone missions can range in duration from as short as 10 minutes to around two hours in length. Drop Zones are a smaller, more focused version of War Zones, and they almost always have just one Objective, and are great for earning gear or leveling heroes.
Beta Progression in Marvel's Avengers
There is a lot of content available in the Beta phase itself. But don't worry, because it only forms a small part of the full game. The full retail version will feature all the Hero Missions, around 80 War Zones/Drop Zones, and much, much more. So don't worry about the devs spoiling the game for you.
Additionally, you will be able to progress to a maximum Hero Level 15 and Power Level 45 in the beta. Your progress will also be carried over the different beta weekends.
Post-beta plans for the game
Crystal Dynamics also has big plans, post-launch. With Hawkeye joining the team, he will have his own storyline. Inspired by the comic 'My Life As A Weapon', the game will also feature a new boss in the game.
"A ton of work goes into new heroes, as we've designed them from the ground up to ensure each delivers a unique experience that honors their comic book legacy. Like the core six heroes, all future characters will have custom move sets and combos, Skills, Gear, Heroics, outfits, emotes, and name plates. From a gameplay and cosmetic standpoint, we've drawn on 80 years of Marvel history."
ADVERTISEMENT
Article continues below this ad
It looks like the developers have left no stone unturned to ensure the game in is line with the comics. It is always great to see game-makers do their research to ensure that the game stays true to its origins.
There's more good news for Fortnite fans. Yes, you read that right. If you manage to complete all the 3 HARM room challenges, you will get a Hulk smasher Pickaxe and Hulkbuster style in Fortnite. More info on the same can be found on the official Fortnite website.
The blog also reveals that the War Zones missions will be between 15 minutes to 2 hours in duration. Looks like we need to prepare for really long hours of gaming. This announcement is just a glimpse of what the full game holds in store for us. Moreover, it'll also be available as a free upgrade for the PlayStation 5, if already purchased on the PS4. We can't wait to get our hands on the complete game to see how it turns out. Till then, enjoy the beta version!
ADVERTISEMENT
Article continues below this ad
Sources: PlayStation Blog PlayStation YouTube