Marvel's Avengers Finally Announces Hawkeye Release Date With New Update
Published 02/17/2021, 2:09 PM EST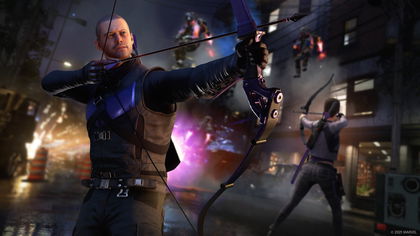 ---
---
The last year saw the release of several exciting titles anticipating the launch of the new-gen consoles. While the lineup of PlayStation exclusives swept us off our feet, the hype was particularly high regarding the titles from Marvel. While Miles Morales swung into the scene in style, the community cheered for Marvel's Avengers as well.
ADVERTISEMENT
Article continues below this ad
After having a successful release last year, the title is starting off this one with its newest post-launch hero. Clint Barton, aka Hawkeye, will be joining the fight along with his own Operation: Future Imperfect this March.
The Community Engagement Specialist of Crystal Dynamics, Leyla Karasuma, announced this on a recent PlayStation blog post. There, she explained how Hawkeye will fit into the current storyline of the game.
ADVERTISEMENT
Article continues below this ad
"Operation Hawkeye: Future Imperfect marks Chapter 2 of Season One, where we continue diving into the consequences of the Tachyon Project and come face to face with a possible future where all hope is lost.
In Future Imperfect, a storyline inspired by Marvel Comics' Old Man Hawkeye series and the Hawkeye (2012) "My Life as a Weapon" storyline, you will be taking Clint on a perilous journey to a future Earth and stepping into a new biome known as the Wasteland to find the missing Nick Fury, come face-to-face with the villain Maestro, and save the world."
Further reading: Black Ops Cold War Season 2: Hunt Naga as it Gets Wild in the Jungles
Marvel's Avengers is ready to welcome a power-packed Hawkeye
Leyla goes on to explain that Kate and Clint will have similar fighting styles since Hawkeye is Kate's mentor. Furthermore, she adds that devs have taken inspiration from Hawkeye's Ronin period to create his sword-fighting skills in the game. This means that with ranged as well as melee abilities, an absolute killing machine will be gracing the game.
ADVERTISEMENT
Article continues below this ad
She briefly explains Clint's fighting style:
"Clint is the steadfast hunter, taking down his foes with powerful, precise hits one at a time until he's the only one left standing. Clint's Quick Reflex Intrinsic Ability allows him to sidestep enemy attacks and parry with a fast-staggering bow shot.
His Dead Eye Skill allows him to focus his aim on a single target, increasing damage and reaction with razor arrows. With Ranger's Momentum, snap to targets instantly and zero-in on weak points."
ADVERTISEMENT
Article continues below this ad
The community has been asking about Hawkeye ever since the major Marvel's Avengers reveal at the E3 2019. Finally, on the 18th of March, players can join the marksman on his mission!