Marvel's Avengers Latest Trailer Featuring Black Panther and Wakanda Sets Mouth Watering Stage
Published 08/05/2021, 1:09 AM EDT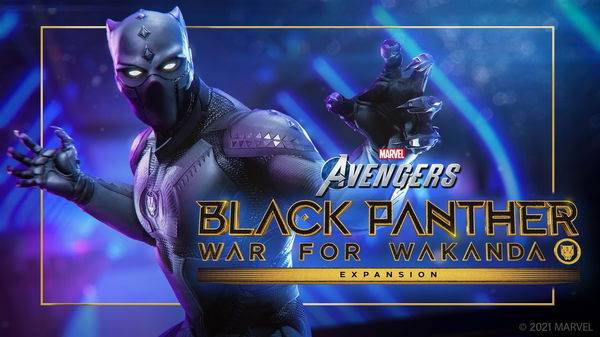 ---
---
A new animated short of upcoming Marvel's Avengers' Black Panther War for Wakanda Expansion is out. The trailer tells the story of the Black Panther and his sister, Shuri.
ADVERTISEMENT
Article continues below this ad
This trailer comes after the showcasing at Square Enix's E3 2021 earlier this year. The Expansion now has an official date of release, August 17, 2021. This will be a free update to the game and will feature the new hero, Black Panther, and his new story.
Marvel's Avengers: Trailer
ADVERTISEMENT
Article continues below this ad
Although, the animation does not have any clips of our favorite superhero fighting Klaw; it is an interesting one. The narrator of the trailer is the King of Wakanda's bodyguard, Okoye. She tells us about the early days of T'Challa and his late father, T'Chaka. She also mentions T'Chaka's other children, but it is unclear as of now how relevant they are to the story.
As we know from the last story, Klaw is going to be the villain in the game. He looks to have his evil ways and get his hands on Wakanda's Vibranium. Okoye circles around Klaw and the reluctance of Wakanda to be accessible to the rest of the world. Hinting at the tense nature of the relation the Avengers have with the people of Wakanda. The story majorly revolves around the two heirs of the throne. Even though T'Challa and Shuri are shown as the best of friends in the Cinematic Universe, the comics say otherwise. In the trailer, we see the two arguing, as Okoye ponders about what Wakanda would be like if Shuri had taken the throne. Setting up the "conflict" of the game.
Watch this Story: Ten Mightiest Weapons of Genshin Impact
What the new update brings to the table
ADVERTISEMENT
Article continues below this ad
The new patch is expected to have new gameplay additions apart from the story-based content. According to some talks, the game will see a new explorable zone, an outpost called The Golden City, and, of course, more Drop Zone and Threat Sector missions.
Besides this, the update will add a long-awaited feature that will allow players to have duplicate heroes in the same lobby. You no longer have to argue with your friend over who gets to test Black Panther first when the update drops. You can just run an entire squad of Black Panthers across the region.
ADVERTISEMENT
Article continues below this ad
The developers of the game, Crystal Dynamics, will host Marvel's Avengers War Table on their official Twitch channel. They will discuss details about everything the Expansion offers. Fans can tune in on August 16, 2021 (10 AM PT / 1 PM ET) if they wish to dive deeper into the secrets of Wakanda.