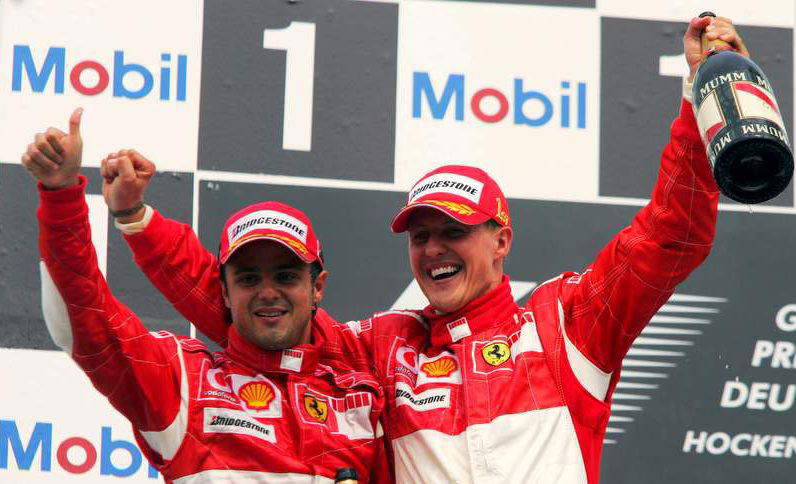 According to former F1 driver Felipe Massa, Fernando Alonso is on the "same level" as Michael Schumacher. However, the Brazilian also said that he has had less success than Michael because he can "split a team".
During his years in Formula 1, Massa has had the opportunity to partner both World Champions. When he made his Ferrari debut in 2006 he was Schumacher's team-mate. Later on, in his final years at the Scuderia, he was Alonso's partner. So, he has first hand knowledge of how both World Champions operate.
"As for pure talent, I would put Michael and Fernando on the same level," Massa said.
"Alonso has the gift, the ease, of understanding a race and driving incredibly fast. A highly intelligent driver with extensive skills and I would say all that also about Michael.
"I have to admit – it was not easy to live by his side. I had a close relationship with Michael. I was young and eager to absorb all the knowledge of a seven-time champion, and Schumacher treated me very well.
"But I had to wrestle with Fernando in a different way. Outside of the race car, I had zero problems with Alonso, we have always maintained a healthy working relationship.
"With Fernando, that's one thing. If he pulls down his visor, he becomes another person. He can split a team. We saw that in many racing teams he drove for.
"I see that as his problem. Maybe he could have made more of his talent without this trait."
Currently, Massa is enjoying retirement from Formula One. But as they say, the racing blood never dies, as Felipe has joined the Venturi Formula E team for the upcoming season.
He will be the 24th former F1 driver to join the all-electric sport in just its fifth season. Massa will join the likes of Nelson Piquet Jr, Lucas DiGrassi and Sebastien Buemi, all three of whom are Formula E champions.