McLaren F1's Lando Norris Opens Up on his Title of 'Meme Lord'
Published 10/02/2019, 7:47 AM EDT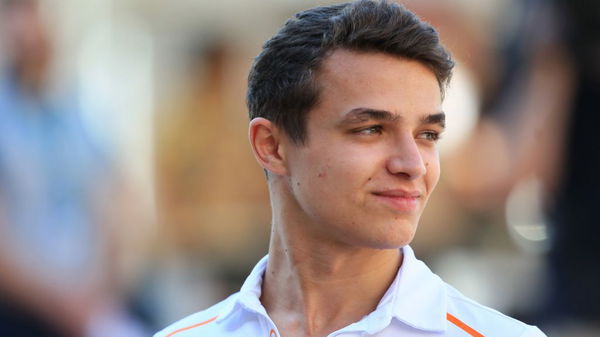 ---
---
McLaren F1 driver Lando Norris is undoubtedly a breath of fresh air in the Formula One grid. The young British driver is well-known, not just for his impressive driving, but off-track antics as well.
ADVERTISEMENT
Article continues below this ad
In an era where social media rules the roost, Lando Norris is steadily bringing that culture into Formula One. His main arsenal are a bunch of memes posted on Twitter and Instagram, and many love him for it.
"I don't care what they think, I just want to be who I am, all I want to do is enjoy it. A lot of people love it and some people hate it, but -in a non-arrogant way- I don't really care if they hate it." – @LandoNorris on being the 'Meme Lord' of F1 ✨ #LN4 #L4NDO pic.twitter.com/b6UltoKPcm

— Lando Norris Updates (@LandoUpdates) October 1, 2019
ADVERTISEMENT
Article continues below this ad
However, where there is love pouring out for him, there are also a few haters as well. Fans and haters comes with the territory of being a famous face and the only thing is to deal with it.
Norris is also an avid gamer, and like most gamers, he streams on the live-streaming video platform called Twitch. He isn't the only one though, as Red Bull star, Max Verstappen and Norris' teammate Carlos Sainz, also stream occasionally.
ADVERTISEMENT
Article continues below this ad
Needless to say, Lando Norris has done exactly that and admitted that he doesn't care if they hate it.
Speaking to RaceFans in an interview, he spoke about his online persona and said, "You plan some things, but a lot of it is just what you just feel like saying at a time. All the captions are just things I think of in a time of wanting to do it."
"Certain posts I obviously have an idea about maybe months ago or something, but I can't do it until a perfect time to then put it out. So it's still me, it's just who I just choose to be at the time. It's not a fake thing, trying to just be funny."
ADVERTISEMENT
Article continues below this ad
Trending Stories