What Made India Lose So Badly At Old Trafford?
Published 08/10/2014, 7:30 AM EDT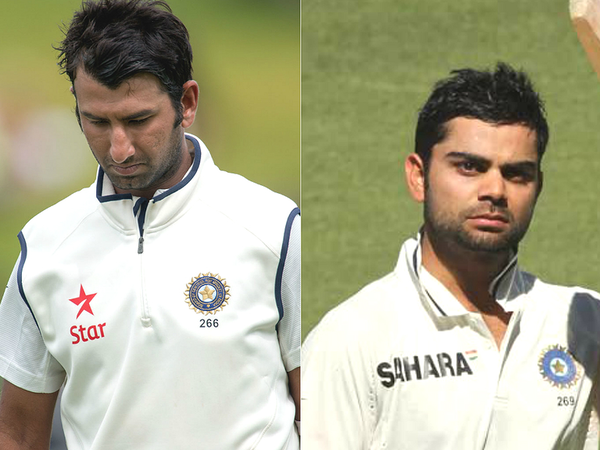 ---
---
For once the famed Indian batting line-up has to take the blame. For once, we have to praise our laborious hard working fast bowlers. For once, the bowlers can't be blamed. They bowled their heart out in the Old Trafford test. They gave everything they had, but the Indian batsmen failed to stand up to the challenge before them. Moreover, it was a bright sunny day in Manchester on 3rd day, probably the best day to bat in the test match according to the former cricketers. But still, what followed was an utterly disappointing performance with the bat.
ADVERTISEMENT
Article continues below this ad
This is not the first time that the Indian batsmen fell like bowling pins in overseas tours; the collapse at Old Trafford in both the innings was reminiscence of the tour back in 2011. Batsmen putting up no fight whatsoever, bowlers having to cover up for the batsmen but to no avail. In the recent foreign tours (read South Africa and New Zealand), bowlers had to cop up the blame for not enforcing wins in Johannesburg and Wellington, and deservingly so. When you nearly end up letting the match slip away after setting a target of 458, and then concede 680 runs in the 3 innings when the batting was behind by 240 odd runs, you have bowled poorly.
Tour changes, problem changes. The same bowling line-up inspires a win at Lord's in 28 years and the batting line up which did so well against the bowling line-up of South Africa and New Zealand, has struggled to put up more than 200 in 3 consecutive innings. The Indian fan must surely wonder what happened in these 3 innings. And don't forget, these were relatively easy tracks to bat on than those in South Africa and New Zealand. And two of these collapses took place when it was proper sunshine in England. It is often said about England, 'the best time to bat in English conditions is when the Sun beats down'. Indian batsmen might differ greatly on this.
ADVERTISEMENT
Article continues below this ad
The Indian fan can understand Broad and Anderson running through the batting line-up with pace, seam, movement and bounce but what hurts him the most when Moeen Ali gets 19 wickets in the series. Yes, the one before the nine is not an editing mistake. He actually has taken 19 wickets. On day one of the Trent Bridge test, in a dialogue between Nasser Hussain and Saurav Ganguly, Ganguly mentioned when Moeen Ali was bowling that 'ENGLAND NEED A SPINNER'. His statement indicated that Indian batsmen will not have any problem against Moeen Ali. The same Moeen Ali has created havoc among arguably the best batsmen of spin.
So what has changed from Lord's to Old Trafford? There might not be a single correct answer to this question. The difference was, in the first two tests, Bhuvneshwar Kumar scored runs and made up more than up for the failure of India's two best batsmen. And Murali Vijay won't score runs in every match. Also, in a relatively inexperienced fast bowling attack, the man who has played over 50 test gets injured.
What was most ironical was when Dhoni finally got the team combination right in the four tests, India played their worst cricket on the tour. A bowling attack which didn't have its strike bowler in Stuart Broad, dismissed India in 43 overs. India didn't even bat 90 overs in both the innings combined. Such was the poor state of batting in the test match.
Virat Kohli and Cheteshwar Pujara came to this tour with big reputations and having the required temperament to play Test Cricket. These reputations were made on scoring runs outside the subcontinent. Reputations which were made on leaving balls outside the off-stump (Read Kohli). Reputations which were made on scoring big after getting set (Read Pujara). Probably the failure on this tour is an aberration to their otherwise batting genius, but they themselves know that it has hurt the team badly.
ADVERTISEMENT
Article continues below this ad
Although, everything is still not lost for Team India. The same team showed tremendous character two test matches back, and there is absolutely no reason why the same can't happen. Ajinkya Rahane & Murali Vijay have displayed a great amount of maturity and temperament and have really played well. Rahane's hundred in Lord's on first day and Vijay's 95 in the second innings were of different pedigree. Bhuvneshwar Kumar has consistently bowled well and the 18 wickets to his name justify that. Pankaj Singh and Varun Aaron still have to cement a place in this side and they would do well to keep bowling well.
Virat Kohli and Cheteshwar Pujara will have to take responsibility and can't be leaving the task for lower middle order all the time. Gambhir or Dhawan, whosoever plays needs to assured of their off-stump and not square up each time. Dhoni needs to give Ashwin a lot more overs and probably drop Jadeja and play an extra seamer. The mindset of the batsmen should not be survival all the time, there has to be some intent on scoring.
It's no assurance that even after these changes India might turn the tide, because to win matches you have to play well. The team needs to believe that they can beat this English side like they did at Lords and level the series in an emphatic manner.
ADVERTISEMENT
Article continues below this ad
The Indian fan would certainly not want another overseas test series defeat.