Meet Nikos Galis – The Greek Freak Who Apparently Dropped 50 on Michael Jordan But Rejected NBA
Published 01/31/2021, 1:53 AM EST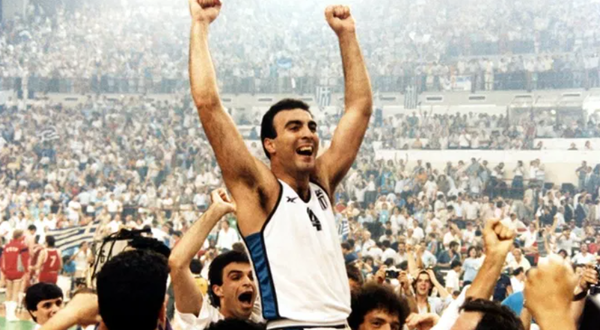 ---
---
Making our way on the way back machine, we move to the Alexandreio Melathron stadium in Greece in 1983. The Greek National basketball team has invited the North Carolina Tar Heels American college basketball team, which features Michael Jordan, to play them in an exhibition game.
ADVERTISEMENT
Article continues below this ad
He is obviously the star attraction of this contest. But even though he went on to become arguably the greatest basketball player of all-time, he wasn't even the best shooting guard on the court that day. That honor belonged to his counterpart, Nikos Galis.
The American-born Greek national dropped 24 points on His Airness. Legend has it that his tally was actually close to 50 points. Since it was an exhibition game, there was no official score-keeper for this contest. But there's a tape from the North Carolina-Greece match that exists. You can watch it below –
ADVERTISEMENT
Article continues below this ad
While Galis may or may not have scored 50 points, the fact of the matter is that he overshadowed Jordan completely. It is also important to take into account that MJ was no slouch on defense (won the 1988 NBA DPOY). And in what was unusual of him, he was effusive in his praise of Galis after the game.
"He is a complete player. I didn't expect to see such a scorer from Europe, especially from your country."
So, who is the Michael Jordan conqueror, Nikos Galis?
Born to a poor Greek immigrant family in New Jersey, he went to Seton Hall college where he averaged 27.5 points per game in his senior year. The Boston Celtics drafted him with their 68th pick in 1979. But they dropped him from the roster after he severely injured his ankle during a workout. That was as close as he came to playing in the NBA. He accepted an offer to play in the Greek league and there was no looking back for him. He won eight Greek League championships and five Greek League MVPs on his way to becoming one of the greatest FIBA players of all-time.
ADVERTISEMENT
Article continues below this ad
NBA teams came calling for his signature. But during those days, you couldn't represent your country in the FIBA while plying your trade for a professional team, such as those in the NBA. And he loved representing his native Greece on the International stage, so he rejected those offers.
ADVERTISEMENT
Article continues below this ad
Red Auerbach, legendary NBA coach and Celtics' GM at the time, called the decision to let him go as the greatest regret of his whole career. Since he pocketed the Chicago Bulls legend in 1983, we wonder the impact that he could have had on the NBA in the 1980s.