Memphis Depay was last season's boy wonder. So where has it gone wrong for United's No.7?
Published 12/12/2015, 6:29 AM EST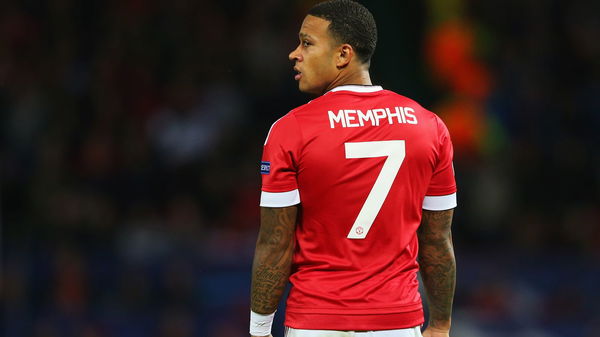 ---
---
A few step overs here, a cheeky nutmeg there, a free kick whipped in to the top corner, it seemed like everything Memphis Depay touched would turn to gold for PSV Eindhoven last season as they stormed to the Eredivisie title 17 points clear of second placed Ajax. He ended the season as the top scorer of the Dutch league with 22 goals in 30 appearances. He managed 28 in 40 overall. Clubs were swooning at the very sight of the Dutch winger who was tipped to be the next Arjen Robben. He was named "The best young player in the world in 2015" by France Football and even his club manager Louis van Gaal has claimed that he is the best player in the world of his age group.
ADVERTISEMENT
Article continues below this ad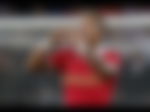 This season however, has been the complete opposite. A lot was expected when he signed for United and the fact that he was entrusted with the fabled Number 7 is evidence of that. Make no mistake, even in the current world of football transfers where money is but a piece of paper which everyone seems to have in plenty, 25 million pounds is still a lot for a 21-year-old. At the moment, none of that trust, or money for that matter, has been repaid.
ADVERTISEMENT
Article continues below this ad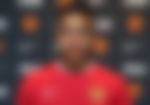 He has been uninfluential and very subdued. Switched between playing as a winger and a striker, he has struggled to find the form that made him one of the most fearsome youngsters in Europe last season and has found himself relegated to the bench after a 3-0 loss away to Arsenal.
The problem with creative players is that you just cannot subdue them. You cannot restrict their movement and keep them in a fixed position. Players such as Ronaldo and Rooney were let loose by Sir Alex Ferguson. The freedom to play the game the way they want to is what makes them the players they are. This is where Depay is currently suffering. Louis van Gaal has sucked the risk and creativity out of him and has told him to reduce the number of tricks and flicks per game. The joy of being a winger is taking the defenders on, dribbling, having the ball at your feet, making the crowd dance and cheer in awe. When you aren't allowed to do that, it's like being stuck in a narrow, tiny box desperate to find a way out.
Make no mistake though, Van Gaal and his play-it-safe tactics are not to be blamed entirely for Memphis's dismal form. The Netherlands' manager Danny Blind, father of team-mate Daley, believes the move to Manchester has brought about a change in his attitude, a sense of false pride. Success can blind a man, especially when it's achieved at such a young age, and many fear the massive rise in his stock after the accomplishments of last season have led to him losing his way, his passion and desire for the game. He has gained a stone as well since signing for United and has been splashing cash on designer clothes and recently went out and bought himself a new Mercedes.
He has responded to the criticism though, and claims his loss of form isn't down to his rise to fame.
"I'm still the same person," said Memphis. "Yes, I do wear hats when I turn up for Holland. Do you reckon that's too flashy? It's a hat and I like it.
"I don't care what people say. It won't get to me. People don't realize how hard I work to achieve things. People only judge me on walking into a hotel with a new hat or they think I turn up late for team meetings.
"The fact I'm not playing well right now is not because of superstar behavior. I still want to be a team player. I'm in the process of building up a career and becoming a better player.
ADVERTISEMENT
Article continues below this ad
"Since I joined United I have gained more than five kilos – and that isn't fat, only muscle. Now I'm more heavy than before, I have to adjust on the pitch. I work a lot on my co-ordination and my pace on the first few yards.
"It's difficult, but I'm fighting my way back . I had to get used to life in Manchester. It was a new club, a different level of playing, a different country. All that plays a part."
To be fair to him, he is only 21 and has a long way to go. It can be really hard for a youngster to leave home and go to another country, adjusting to a new environment and a new atmosphere. Footballers are also expected to settle in to their new clubs and adjust to a new coach and a new style of play as well as new team-mates. A lot youngsters have failed in their first season but have gone on to hit heights in their second. Depay still has half of his first season to make an impact. Should he find the form that made him one of the most revered and sought after players on the continent, he may turn out to be a crucial member in United's bid to refurbish a quickly faltering season.
ADVERTISEMENT
Article continues below this ad