Mercedes Concerned about 'Brutal' Ricciardo Pass
Published 04/16/2018, 2:06 PM EDT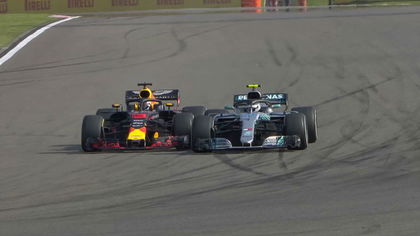 ---
---
In the closing stages of the 2018 Chinese Grand Prix, Mercedes driver Valtteri Bottas fell prey to a banzai attack. The attacker was eventual race winner Daniel Ricciardo, the Finn barely avoided the brutal Ricciardo pass, according to Mercedes team boss Toto Wolff.
ADVERTISEMENT
Article continues below this ad
The Australian is regarded as one of the best overtakers on the grid. A brilliant strategy from Red Bull saw Ricciardo and Max Verstappen on a fresh set of tyres. The Austrian marquee timed the pitstop to perfection during the safety car period.
Once the safety car came in, Ricciardo made his move. He overtook all the cars in the front, one at a time. His manoeuvres were precise and worth watching a second time. For his final act, he pulled a breath-taking move on Bottas at Turn 6.
ADVERTISEMENT
Article continues below this ad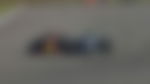 Wolff was impressed by the pass, but admitted that the brutal Ricciardo pass left his heart in his mouth. A divebomb coming from that far back, there was a likelihood of a collision
"Daniel is one of the very good drivers, and he proved it again," said Wolff. "He was very efficient, he was able to wait for his opportunity, he was aggressive when it was needed. Overall [it was] a very good race for him.
"Maybe the manoeuvre on Valtteri was a bit… brutal. But it proved to work. He had Valtteri helping him with that, to avoid a collision. But that is racing and great."
Bottas' second place was the only silver lining from the weekend for the German team, Wolff admitted.
"The only thing I see positive is Valtteri's race," he said. "That was really awesome. No mistakes. Unlucky with the Safety Car.
"Even with the Ricciardo overtake, if Valtteri wouldn't have opened the door last minute Ricciardo would have taken him out.
"He's the only one who was without fault [in the race]."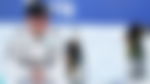 Bottas admitted that he made no attempt to block the pass or else he would compromise his own exit. He knew that the Aussie passing him for the lead was inevitable.
ADVERTISEMENT
Article continues below this ad
"He was really closing in quickly and a big pace difference," said the Finn.
"They had a really strong car today and on top of that fresh tyres at that point so seeing the pace he disappeared afterwards, it think it was only a matter of time.
"By that situation, I was going to defend into Turn 6, so it was a bit of a compromise how extreme you go with it, you go very extreme, he's definitely going to get you at the exit if he can choose the line behind you.
ADVERTISEMENT
Article continues below this ad
"He tends to find the space from inside even while you defend and it was just a matter of time."