Mercedes could be up for some serious issues with tire management if the reports coming in come out to be true. After being one of the only teams to be able to understand Pirelli's 2019 tires well enough, Mercedes could find itself with 2018 like issues if Ferrari and Red Bull were to proceed with their requests of changing the current tires as it is being learned.
Ferrari & Red Bull are leading a group of teams trying to convince Pirelli to go back to tyres with a thicker tread as quickly as possible. Arguing the new thinner tread tyres are bad for the show.

AMuS (in German): https://t.co/jveh9z28pv

— Tobi Grüner 🏁 (@tgruener) June 8, 2019
The thinner tires that Pirelli tried last year were created as a result of blisters that some drivers experienced in pre-season testing. Mercedes was one of the team which suffered with the same. Throughout 2018, blistering was one of the main issues with Mercedes. The thinner tires were to help the teams manage the tire temperatures better. However, it was very well known that Pirelli triggered the change after Mercedes approached them. This made the teams very sceptical of the 2019 spec.
Christian Horner as made it very clear on multiple occasions how much he dislikes the current Pirelli tires. This year, Pirelli has brought in thinner gauge tires, something that they tried last year.
"The tyre was made thinner and stiffer gauge and profile for this year," he told Sky. "That, therefore, takes an awful lot more energy and it's an awful lot harder to get the tyre going and to generate that heat in the tyre.
"Mercedes, when we ran these tyres at the races last year, won all the races these tyres actually were introduced on.
"I think just by good fortune for them this tyre change this year, on a car that was usually quite hard on its tyres, particularly its rear tyres, has actually worked in their favour and puts them in a really nice window, it's for the rest of us to try and catch up."
"The best thing obviously would be if they went back to last year's tyres," he added.
"You'd probably find nine teams happy with that and one team fairly unhappy with that. But in the interests of entertainment in Formula 1 that would be a noble thing for Pirelli to do."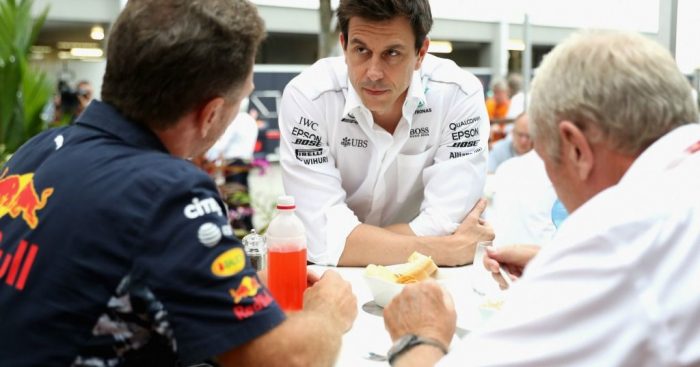 Dr. Helmut Marko was also quoted as rubbishing the tires that Pirelli is currently running. "At the moment, Mercedes has a huge advantage, thanks to this stupid change with the tires. There are nine teams who have difficulty with it and only one team that knows how to profit from it. At the moment, the lap in which you warm up your tires is more important than the lap in which you drive the qualification. If you don't get the tires at the ideal temperature, you're ruined,", he said. 
However, changing the tire spec mid season isn't as easy as it sounds. As stated by reputed F1 journalist Tobi Gruner, Pirelli will need either 70% of the teams to agree to it or for the FIA to officially request the same. But they have very well done it in the past as well. So why not now?
Pirelli motorsport boss Mario Isola explains, what is necessary for them to change the tyre spec during a season: "We either need 70% of the teams to agree on that or the FIA officially requesting it. Or it has to be for safety reasons."

— Tobi Grüner 🏁 (@tgruener) June 8, 2019
Speaking on this issue, Mercedes team principal, Toto Wolff said, "Every year we have new tyres from Pirelli,"
"Sometimes you manage to understand them quicker. Sometimes you struggle more.
"Pirelli's been given an impossible task, telling them to give us tyres that degrade so that strategies become exciting. Once we have tyres that degrade people are asking to have tyres that last longer.
"I think we need to protect and support Pirelli in their task to give a tyre that hopefully suits everybody. This is what we're doing and not letting ourselves to be distracted with voices that don't matter."
Jaskirat Arora
Engineer in the making. Loves cars, Formula One , Tennis and Tech. Big fan of the 80s and 90s era of Formula One. #KeepFightingMichael