What Do Mercedes Think of the Abu Dhabi Donuts
Published 12/02/2018, 3:23 AM EST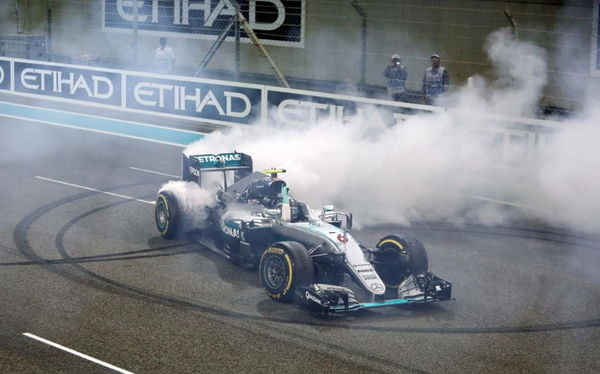 Earlier today, the Mercedes AMG F1 team posted a video on Youtube where Technical Director James Allison was answering fan questions. All of those questions were based around the Abu Dhabi race. They ranged from questions about strategy to why one driver did things different to his teammate.
ADVERTISEMENT
Article continues below this ad
Towards the end of the session, a fan on Instagram asked what the team thought about the drivers doing donuts at the end of the season. Allison said, "The truth is we completely love it. You couldn't do it every race because by doing those donuts we lose information about how the tyres had worn. It really mucks up the tyres when they're spinning like that. We would have no record of what the tyre condition was and it also damages the gearbox to a degree."
"But at the end of the season when everyone has had many many months of the campaign of the season. It's fantastic to see the cars out there hooliganing around like this. In fact, if you listened to the radio, you would've heard Pete Bonnington, Lewis's race engineer at Mercedes imploring him to come around to the start/finish straight and do another series of donuts so that we could see them live instead of watching them on monitors."
It must also be said that usually after every race, the cars are scrutineered by the FIA. The cars have to reach a specific weight and burning up tyres like that could reduce it dramatically. If a car fails FIA scrutiny, there is normally a hefty fine imposed, or in the worst case scenario, disqualification. This is also another reason why donuts are not  normally encourage often. Once in a way, namely after the season finale, drivers can do them as the cars won't be used again next year.