Mercedes wary of another first corner clash in Mexico
Published 11/01/2015, 1:04 AM EDT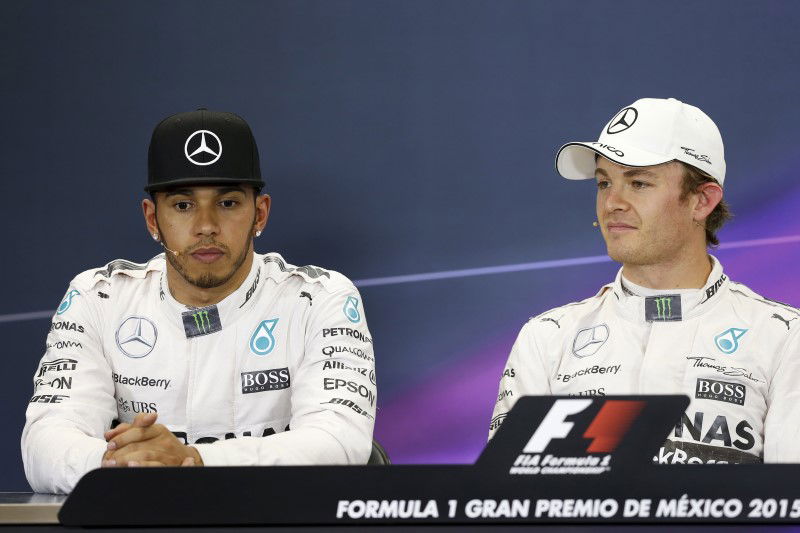 ---
---
By Alan Baldwin
ADVERTISEMENT
Article continues below this ad
MEXICO CITY (Reuters) – Mercedes have warned triple Formula One world champion Lewis Hamilton and team mate Nico Rosberg to steer clear of controversy in Sunday's Mexican Grand Prix.
The two drivers will line up again on the front row of the starting grid, a week after they banged wheels into the first corner of the title-deciding U.S. Grand Prix in Austin with Rosberg coming off worst.
ADVERTISEMENT
Article continues below this ad
Mercedes motorsport director Toto Wolff said the team's position had been made clear to both, even if both championships were won already.
"We want to see them race and not pre-agree before the race even started who goes first through the corner and who goes second," he told reporters. "It would make the whole thing a lot less exciting.
"We continue to support them in racing hard and optimising their result and of course for the team it is very important there is no controversy in the team — and obviously if the cars collided that is causing controversy."
Wolff said there had been regular conversations since Austin, and there was no need to rake everything over.
"I have looked at the situation at turn one 30 times over the last week in order to make up my mind," he said when asked whether Hamilton had been too hard.
"My conclusion is that both Nico and Lewis raced each other hard and it was under tricky circumstances in a difficult corner … It was hard racing."
Rosberg is fighting Ferrari's Sebastian Vettel to finish second overall while Hamilton can still equal the record of 13 victories in a season if he triumphs in Mexico, Brazil and Abu Dhabi.
While Rosberg has secured the last four pole positions, Hamilton has won the last three races from second place and played down the importance of it.
"When you finish your career, the races and championships are the things that really do matter so that's what I run towards," Hamilton said.
ADVERTISEMENT
Article continues below this ad
Mexico's revamped circuit, which is hosting a race for the first time since 1992, has a long and fast run down to the first corner and Hamilton felt he was better placed to take advantage.
"I would imagine it is better to be behind," he said, turning up the mind games.
"Coming into the weekend I thought about if I was on pole how it would be pretty difficult to hold off the guy behind because it's a long way to slipstream someone."
ADVERTISEMENT
Article continues below this ad
(Reporting by Alan Baldwin; Editing by Andrew Both)
More from EssentiallySports on F1