Mertesacker salutes Arsenal's new flexible game plans
Published 12/22/2015, 9:47 AM EST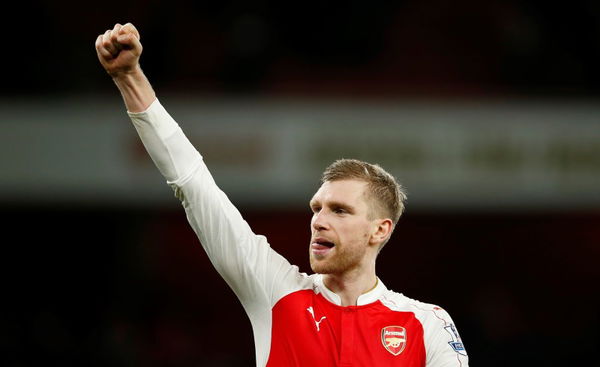 ---
---
REUTERS – Arsenal's ability to change game plans for different matches has been an important factor in their consistency this season, according to Germany defender Per Mertesacker.
ADVERTISEMENT
Article continues below this ad
The Londoners have often relied on all-out attack in the past but this term they have strengthened at the back, allowing the side to occasionally soak up pressure in defence before springing forward on lightning raids.
"We are capable of doing different things in different games and that is what makes it harder for the opponents," Mertesacker told reporters after Monday's 2-1 home win over Manchester City took Arsenal within two points of Premier League leaders Leicester City.
ADVERTISEMENT
Article continues below this ad
"We go game by game and concentrate on having a game plan and trying to implement it. Sometimes we need to adjust.
"We do not have all of our players available at the minute so we had to come up with a way to win against City and to trust that way," said Mertesacker.
On Monday, Arsenal had eight efforts on goal to City's 20 and 382 passes to the visiting team's 648.
ADVERTISEMENT
Article continues below this ad
First-half goals from Theo Walcott and Olivier Giroud put the home team in control before Yaya Toure scored a late consolation for Manuel Pellegrini's men.
"This year we are more consistent and it is what is making us better as a unit," said Mertesacker. "That is what we are doing well at the moment.
"(But) we have not proven anything yet and if we are to talk of the title we have to be even more consistent," added the 2014 World Cup winner.
ADVERTISEMENT
Article continues below this ad
"Now we face the next challenge on Saturday (at Southampton). It is obviously a busy time and we need to show strength and the depth of the squad is vital."
(Reporting by Nayan Das in Bengaluru; Editing by Tony Jimenez)