Messi asks Man United to never let Rooney leave
Published 06/14/2015, 11:08 AM EDT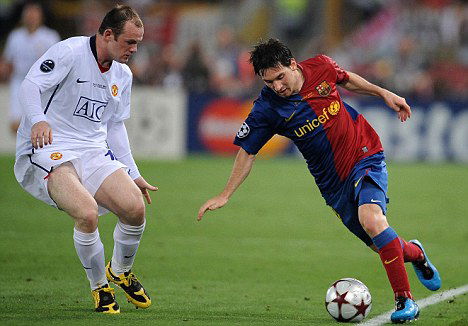 ---
---
The football Maestro, Lionel Messi, while talking about English football suggested to Manchester United to never to let their chief striker and captain Wayne Rooney leave the club. He also applauded the quality of English strikers and labelled 'Rooney' to be world class.
A very instrumental part of the treble winning Barcelona team, Messi has been prolific this season, better than ever. The 4 time Ballon d' Or winner when talking with shortlist, when he was posed with a question of why English teams failed to perform well in CL and on why England can't produce World Class players, he believed that not to be true and gave the United striker Rooney as an example.
Also, when asked about how his life would be if he would have been at Arsenal and not Barcelona, he was confident that he would have been in a good position, even though the type of education would have been very different from La Masia.
He also talked about how as a 16 year old, how Ronaldinho was a great inspiration and a force in his initial years at 1st team of Barcelona. He found the Brazilian legend to be not only amazing at play, but amazing at heart too, who often helped him gel into the team as a much younger player in comparison to the then team.