Messi return to reunite 'MNS' for the 'Clasico'
Published 11/19/2015, 12:57 PM EST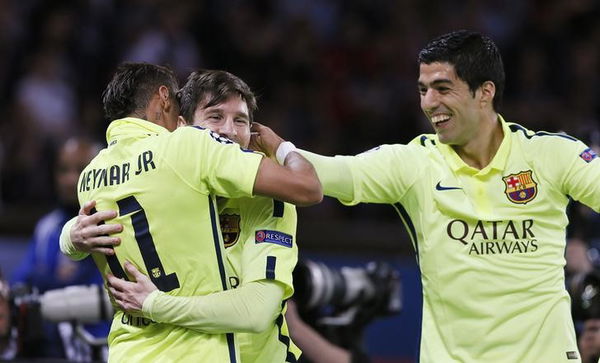 ---
---
By Tim Hanlon
ADVERTISEMENT
Article continues below this ad
BARCELONA (Reuters) – Lionel Messi's return from injury looks to be coming at exactly the right time for Barcelona as he gears up for a reunion with Neymar and Luis Suarez for Saturday's La Liga 'Clasico' at Real Madrid.
The most lethal attacking trio in Spanish soccer history have not played together since Argentina's Messi injured a knee at the end of September, during which time Brazil forward Neymar and Uruguay striker Suarez have flourished.
ADVERTISEMENT
Article continues below this ad
Neymar has thrived on the extra creative responsibility given him by coach Luis Enrique and he has developed a stronger understanding with his team mates, especially Suarez.
The pair have netted 16 goals in Barca's last seven games and for the first time in recent years, with Barca top of La Liga and leading their Champions League group, there is no talk of "Messi dependency".
The debate over whether Messi, a four-time World Player of the Year, is irreplaceable has morphed into a discussion about whether the 23-year-old Neymar will be his worthy heir at the Nou Camp.
Messi's return against Real would clearly give a new dimension to the Barca attack whether he starts or is deployed off the bench.
It is 10 years this week since the 28-year-old played his first 'Clasico' and he has left an indelible mark with a record 21 goals in 30 matches against Barca's arch rivals.
"We are aware that Leo is the best in the world and we will always recognise that," Suarez told a news conference on Wednesday.
"Time will tell how good a forward line we are but it is true that we get on well and the whole team helps us to score goals.
"Without the players behind us though we would be nothing and we wouldn't achieve anything."
NO EGO
Barca's Spain international Gerard Pique also pointed to the camaraderie among the trio — collectively known in Spain as "MNS" — as a reason for their success.
"The key for these three is the relationship that they have," Pique said in a recent interview with Britain's Telegraph newspaper.
"The only problem when you have players of this magnitude is the ego.
"Suarez was the main man at Liverpool, Leo, before we had Suarez and Neymar, it was just him.
"And how they connect — they do not have any ego and this is the most important part."
Messi, Neymar and Suarez hit a Spanish record 122 goals between them last season to fire Barca to a treble of Champions League, La Liga and King's Cup titles and they match up favourably alongside the rich history of attacking flair at the Catalan club.
It may be difficult to compare players of different eras, and only since the arrival of Johan Cruyff as coach in the late 1980s with his revolutionary style of play have Barca regularly fielded three forwards, but the present trio stand out.
ADVERTISEMENT
Article continues below this ad
Messi has figured in other memorable attacks, notably alongside Thierry Henry and Samuel Eto'o when they hit 100 goals in the 2008-09 treble-winning season.
His earlier partnership with Eto'o and Ronaldinho may have produced breathtaking football but their best scoring record was a combined 68 goals in the 2005-06 season.
The Brazilian Ronaldo produced some magical football for Barca alongside Luis Figo and Luis Enrique although their tally of 73 goals in 1996-97 is a long way short of the present forward line's scoring feats.
ADVERTISEMENT
Article continues below this ad
With Barca three points clear at the top, the pressure is firmly on Real to find a way of stopping "MNS".
(Reporting by Tim Hanlon; Editing by Rob Hodgetts)