Messi Shatters Records in El Clasico
Published 12/23/2017, 11:18 AM EST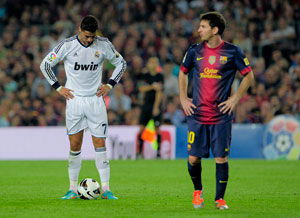 ---
---
The Real Madrid-Barcelona El Clasico wrapped up today with Barcelona humbling Real Madrid 3-0. Once again Lionel Messi shatters a number of records in the massacre. Luis Suarez, Aleix Vidal and Messi contributed to 90 minutes of torture for the Madridistas. To make matters worse for them, Dani Carvajal picked up a red card in the second half. Here is how Twitter reacted to the match.
Celebrating in style
https://twitter.com/Mary87_A/status/944593089024483329
The Burn is Strong with this one
https://twitter.com/Ab17Abdullah/status/944593070481387520
Gotta Feel for them
https://twitter.com/nasuh_dusmezz/status/944598047547445248
We Wish you a Messi Christmas
A Rising Star
One for the Record Books
Debatable
You Said It!
Good Question
Be Scared, Be Very Scared
Messi Shatters even more records
https://twitter.com/damusburger/status/944597717845766144
Gracious in Defeat
https://twitter.com/GuardiolaSZN/status/944597623780073478
The Struggle is Real!