Mesut Ozil and Sead Kolasinac Excluded for Arsenal's Season Opener against Newcastle
Published 08/10/2019, 7:20 AM EDT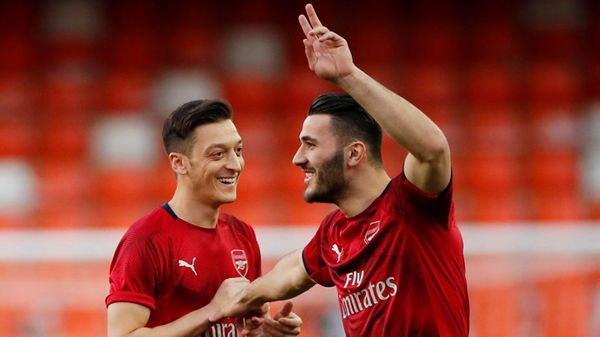 Arsenal players Mesut Ozil and Sead Kolasinac will miss Arsenal's 2019-20 Premier League opener against Newcastle United owing to the incident that shook them few weeks back, where they were attacked by knife wielding men.
ADVERTISEMENT
Article continues below this ad
Arsenal released a statement where it announced that the two players will not take part in their first match in this season's Premier League
"Mesut Özil and Sead Kolasinac will not be part of the squad for our opening match against Newcastle following further security incidents which are being investigated by the police," the statement read.
ADVERTISEMENT
Article continues below this ad
Kolasinac, along with a few other Arsenal players, was going in Mesut Ozil's Mercedes SUV when two men coming on a bike tried to attack them. Suspected as a robbery attempt, the two men tried to attack the players using knives. The men had their faces covered with helmets.
Though the players were said to have escaped the  incident unharmed, Arsenal, as a precautionary, measure will be resting the players.
"The welfare of our players and their families is always a top priority and we have taken this decision following discussion with the players and their representatives. We are liaising with the police and are providing the players and their families with ongoing support. We look forward to welcoming the players back to the squad as soon as possible. We will not be making any further comment on the matter," the statement from Arsenal further read.
ADVERTISEMENT
Article continues below this ad
After the incident, an onlooker told Mail Online, "It was totally mad and strange. His car was standing there empty in the middle of the road with its door hanging open. It is very distinctive, with gold trim.
"Ozil looked absolutely terrified, as anybody would after being chased by men with knives. He looked like he was running for his life. And I suppose he was.
"I saw him disappear into the restaurant with the motorcycle guys on his tail. They didn't take off their helmets and were all in black, wearing long sleeved tops in this hot weather."
ADVERTISEMENT
Article continues below this ad
Everybody involved in the incident are currently understood to be fine, and the resting of the players seem only precautionary.