Mexican GP promoter prefers Texas back-to-back
Published 11/10/2015, 1:11 AM EST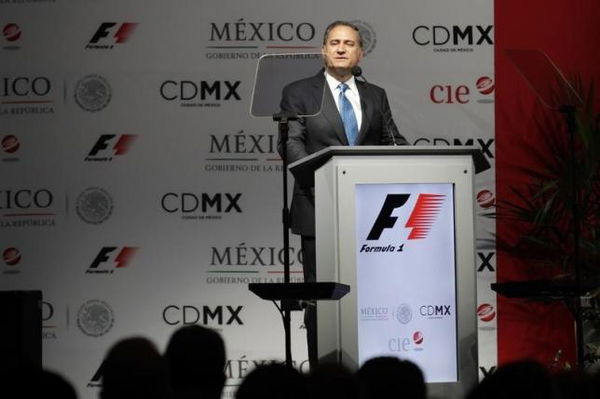 LONDON (Reuters) – Mexican Grand Prix organisers would rather have their Formula One race paired with neighbouring Texas than be back-to-back with Brazil, promoter Alejandro Soberon said on Monday.
ADVERTISEMENT
Article continues below this ad
"I think honestly, personally, it is a better idea to have it back-to-back with Texas," he told Reuters in a telephone conversation following up Mexico's successful return to Formula One after a 23-year absence.
"It creates an opportunity for European and Asian fans to come to this part of the world and in the space of 10 days see two races," said the chief executive of Corporacion Interamericana de Entretenimiento (CIE).
ADVERTISEMENT
Article continues below this ad
"My opinion is that it's best back-to-back with Austin than to Brazil."
Some 135,000 spectators turned up on race day, Nov. 1, at the Hermanos Rodriguez circuit to witness Mexico's first grand prix since 1992.
The previous weekend, a rain-hit one in Texas, Britain's Lewis Hamilton had won his third world championship with Mercedes.
Next year's provisional calendar has the Mexican GP pencilled in for a Nov. 6 date, on the weekend before the Brazilian Grand Prix in Sao Paulo. The U.S. round is scheduled as a stand-alone race on Oct. 23.
Soberon said this year's slot, coinciding with Mexico's Day of the Dead national holiday, was perfect for both locals and visitors.
"We like that weekend. We need to have a conversation to see how the final calendar ends for next year because that weekend is really good for Mexican fans, it's great to have it in the holiday," he said.
He suggested there could also be closer ties with Austin's Circuit of the Americas (COTA) to create a package that would encourage fans to visit both.
"I think we should work well together, we should look for ways of collaboration," he said. "I think Austin is a wonderful race and there's perfectly a space for the two races to be nearby."
COTA chairman Bobby Epstein said last month that his circuit had suffered a "financially devastating weekend" this year due to bad weather that washed out Saturday and lost sales from concessions.
"The Mexico race hurt us," he told the Austin Statesman, adding that the announced Sunday attendance of 101,667 would have been greater without Mexico's return.
Soberon said organisers were delighted with their sell-out event, and the overwhelmingly positive response from inside the Formula One paddock, and promised a "bigger and better" grand prix for next year.
"We are going to take a close look at the track to see if there are additional areas where we can bring and increase capacity. But we will only do it if we can keep the level of experience of the fans," he added.
ADVERTISEMENT
Article continues below this ad
The promoter said the race had met financial predictions and expected it to have a long-term future beyond the immediate five-year contract.
He also welcomed the possibility, even if still no more than talk, of Argentina returning to further boost the Americas presence in Formula One.
"I think the more races we have in this part of the world, the better for the show and for Formula One," he said.
ADVERTISEMENT
Article continues below this ad
"We think this part of the world could really bring a lot of balance to Formula One."
(By Alan Baldwin, Editing by Ed Osmond)