Michael Jordan Invokes Nostalgia as He Remakes His Iconic Gatorade Commercial
Published 03/15/2021, 3:58 PM EDT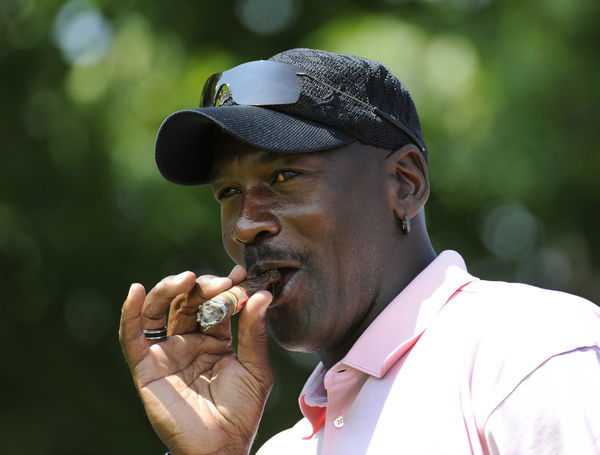 ---
---
Michael Jordan is a true icon in the game of basketball. Be it his on-court killer instinct or his off-the court charisma, there is a reason why MJ is one of the most recognizable faces in the NBA.
ADVERTISEMENT
Article continues below this ad
Jordan truly embraced the superstar culture in the NBA. Given how successful he was on the court, he was one of the most wanted athletes off of it as well. One of the biggest companies who MJ was the face of was Gatorade.
The energy drink company swooped in Jordan in 1991 as the ambassador for the company, offering him $13.5 million for 10 years. While the 91 'Be Like Mike' campaign was a wild success for the company, Gatorade stayed creative with its commercials.
ADVERTISEMENT
Article continues below this ad
Gatorade recreates iconic Michael Jordan commercial
In 1997, the company launched one of its most iconic commercials to date, featuring Jordan and Mia Hamm. Both the legends faced off against each other in a series of sports set in the backdrop of "Anything You Can Do (I Can Do Better)."
The energy drink giant recently launched a brand new commercial for their all new Gatorade Zero. The ad is a spinoff of the original 1997 ad featuring MJ and Mia Hamm.
This time it features track and field G.O.A.T Usain Bolt and USA women's soccer legend Abby Wambach. The two athletes toss up tires, play soccer, and end up failing miserably at speed skating.
Jordan and Hamm also end up having cameo appearances in the new ad, but this time both of them were facing off on the golf course instead.
ADVERTISEMENT
Article continues below this ad
Wambach was absolutely stoked to feature in the new version of the iconic ad. In an interview with PEOPLE magazine, the 2-time Olympian opened up about the impact the commercial had on her life.
"I was a kid growing up, watching the Michael and Mia commercials being like, 'Oh, this is' — it was the first time I had ever seen in my life a woman being seen in the same vein as a man.
ADVERTISEMENT
Article continues below this ad
"And I think that for me, gave me permission to believe that I deserved the same thing as men deserved."
Jordan certainly invoked some kind of nostalgia by this recent appearance. This just goes onto show the massive impact he MJ had on and off-the court.