Michael Schumacher's Debut: The Dawn of an Era
Published 11/08/2017, 10:09 AM EST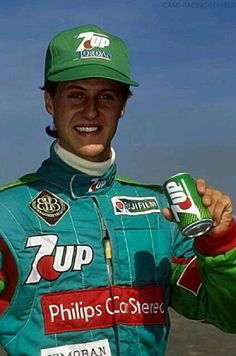 ---
---
It was the season of 1991 and the fight for the championship was ever so close between Nigel Mansell and Ayrton Senna. In the 11th race of the season, Jordan driver Bertrand Gachot was imprisoned. In that very race, a momentous event occurred, Michael Schumacher's debut. The team decided to test the 22 year old German, who was known for his good performances in Formula 3.
ADVERTISEMENT
Article continues below this ad
Thus on August 25th, 1991, Michael Schumacher entered the sport as a substitute driver for Jordan. Who knew, that he would end up leaving a legacy far greater than anybody else in the history, and possibly the future of the sport.
Michael Schumacher's Debut Race
ADVERTISEMENT
Article continues below this ad
Michael Schumacher's debut suddenly became the talk of the paddock from the first few sessions itself. He had never driven on the circuit before. Everyone knows how challenging Spa is with it's fast paced corners and elevation changes. The team and Schumacher himself knew that his first objective was to finish the race. Before the start of the Friday session, Schumacher took his cycle and did a lap around the circuit. This was the only lap he got around Spa. His next ones would be behind the wheel of a Formula One car.
Qualifying session is where everyone saw the arrival of a great champion to be. Despite his meager experience, he ended up finishing on the fourth grid, managing to qualify 7th, which was a remarkable achievement nonetheless!
Michael Schumacher's debut stamped his entry into Formula One. He was a bit unfortunate in the race though as he failed to finish even one lap of the race owing to clutch issues with the car.
ADVERTISEMENT
Article continues below this ad
But his performance on Saturday was enough for him to secure a seat for Benetton for the remaining season where he went on to secure four points from the next six races. The Benetton-Schumacher partnership was indeed very successful, with Schumacher going on to win his first race in 1992 for Benetton at his debut track – Spa. He also went on to win two World Championships for them in 1994 and 1995 before moving to Ferrari in 1996.
No one could foresee at that time that this particular German would end up winning  7 championships and 91 races and holding records that no one will have the capacity to break. He came and he conquered the world of Formula One.
Now, he fights a battle following his ski incident in December 2013. His condition still remains uncertain and all we can do is pray for the champion to get well soon.
#KeepFightingMichael
ADVERTISEMENT
Article continues below this ad
ES wishes you a speedy recovery.