Mikaela Shiffrin Makes a Shocking Last Minute Change at Beijing Winter Olympics 2022, Ditches 60 of her Own Skis to Increase Medal Chances
Published 02/17/2022, 12:21 AM EST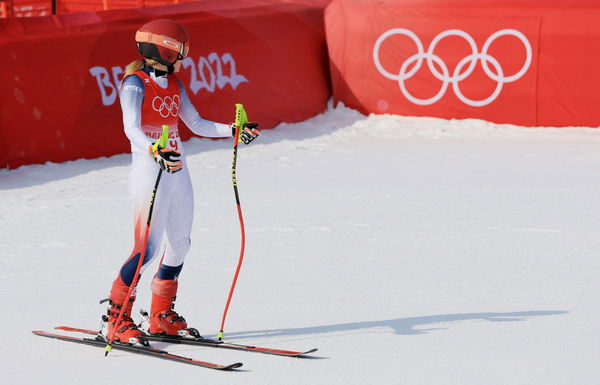 When athletes go to the Olympics, they don't want to take any chances. They take the best gear they can get their hands on in order to bolster their odds of success. Alpine skier Mikaela Shiffrin is also no different as she came well prepared to the Beijing Olympics 2022.
ADVERTISEMENT
Article continues below this ad
Athletes refuse to take any risk when it comes to their gear. This is the very gear that helps them win these competitions. US Alpine skier Mikaela Shiffrin often carries multiple pairs of skis with her to her events. This can range from anything between 20 to 70 pairs of skis.
ADVERTISEMENT
Article continues below this ad
So why did Mikaela ditch her own skis and decide to use a pair of skis from a fellow athlete at the last moment?
Why did Shiffrin use Soffia Goggia's skis at the last moment?
Mikaela Shiffrin carried 60 pairs of skis with her to the Beijing Winter Olympics. This was nothing new for her though. She previously carried 35 pairs of skis with her to Pyeongchang in 2018.
Shiffrin uses only one pair of skis ultimately for the event. But when it comes to major events, she can not take any chances. Usually, she carries almost 70 pairs of skis with her. In comparison, she comparatively carried fewer skis to the Winter Olympics.
But the interesting thing to note here is why she ended up using fellow skier Sofia Goggia's skis at the last moment. Was this to increase her chances at victory? Was she not comfortable with her own skis?
All her own skis are manufactured by the same brand. Notably, Shiffrin used her own skis in the first two events. She received a DNF in both these events, crashing out early. Perhaps this made her lose faith in her own skis, so much so that she ditched all 60 pairs of skis that she brought with her.
Shiffrin has revealed that Sofia Goggia left a note for her own skis. The note read, "You can fly on these skis."And fly she did, because after that Mikaela Shiffrin completed all her runs successfully.
Shiffrin just said Goggia left her a sticky-note on the skis that said: "You can fly on these skis"

— D'Arcy Maine (@darcymaine_espn) February 17, 2022
It might be speculated that Mikaela wasn't comfortable with her own skis, and using Sofia's skis gave her that confidence.
In Thursday's Combined Downhill event, Mikaela came up 5th in the first round. She has a pretty good chance of getting a podium finish if she remains consistent in the second round.
The reason behind Shiffrin carrying multiple pairs of skis
ADVERTISEMENT
Article continues below this ad
Skis are quite heavy to carry. Shiffrin's slalom skis are 155 centimeters long, while her downhill skis are like 255 centimeters long. Shiffrin carries almost 25 skis per event, and usually, she participates in 3 events.
Even though they are quite hard to handle; Mikaela has revealed that they are absolutely necessary.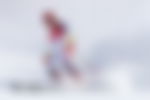 Depending on the weather conditions and a lot of other factors, Mikaela needs to use several different pairs of skis per event. She knows exactly how each pair of skis works and when to use them.
ADVERTISEMENT
Article continues below this ad