Mike Tyson & Co. Smoke Marijuana Worth "$ 40,000 a Month" at Tyson Ranch
Published 08/15/2019, 7:21 AM EDT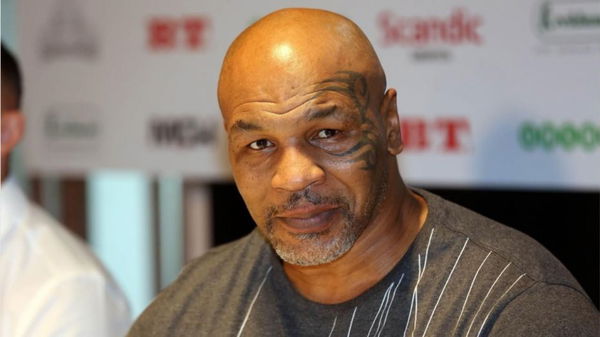 ---
---
The old cliche in drug dealing and addiction, "The dealer does not consume" does not hold true in the case of one of the best boxers the world has ever seen. Mike Tyson, who owns a cannibal outlet in California, in a recent podcast did not shy away from saying that he does not just consume marijuana, but smokes an amount that can be considered a lot. And like a good businessman, he pays for his drugs and he revealed an amount that he spends on smoking pot that was truly shocking.
ADVERTISEMENT
Article continues below this ad
The American boxer is the host of his podcast named "Hotboxin' with Mike Tyson." In an episode on Monday with his guest- rapper Jim Jones, a figure of $ 40,000 came out of Tyson's mouth when he was talking about the amount they spend on smoking in a month.
The podcast was co-hosted by former NFL player turned marijuana advocate Eden Britton.
ADVERTISEMENT
Article continues below this ad
"What do we smoke a month?" Tyson asked his co-host, Britton. "Is it $40,000 a month?"
"We smoke 10 tons of weed at the ranch a month," Britton said, referring to Tyson Ranch, the boxer's upcoming 40-acre marijuana project plan.
"Is that crazy?" Tyson asked in a rhetorical manner.
His guest, Jim Jones, was naturally quite surprised at the statement.
"That's a lot of weed," Jones said. "That's nonstop, every second weed right there."
Watch the full episode:
Tyson Ranch-
Tyson Ranch was opened in 2018, after the legalisation of recreational marijuana in California.
ADVERTISEMENT
Article continues below this ad
The 53-year-old now devotes his whole life to manufacturing high-grade cannabis through his marijuana manufacturing company. Tyson is reportedly planning to build the ranch into a full weed-themed resort with hotel, amphitheatre and campsites. The ranch grows various strains of marijuana that are sold throughout California and also in Las Vegas. Tyson had said that the operation sells about $500,000 a month in weed products.
ADVERTISEMENT
Article continues below this ad
Tyson currently uses the ranch for research into growing and improving cannabis, which according to Cannabis & Tech magazine is something he has been taking regularly for the last two decades.
"I've been fighting for over 20 years, and my body has a lot of wear and tear," Tyson recently told Cannabis & Tech magazine.
"I had two surgeries and I used marijuana to calm my nerves, and it would take the pain away.
"But before, they had me on those opiates, and those opiates had me all screwed up."
"Cannabis is the future and eventually everyone is going to have to give in," he added.