Minecraft x Dreamworks Crossover Releases a How to Train Your Dragon DLC
Published 05/12/2021, 3:33 PM EDT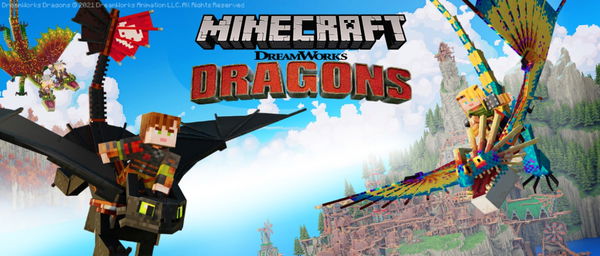 ---
---
Minecraft has always catered to a niche and loyal fanbase, and the appeal of this iconic sandbox RPG has only increased during the past years. With over 200 million copies sold and playing host to 126 million active users as of last year, this indie title from Mojang prestigiously holds the record for the best-selling video game of all time. The title recreated the sandbox experience and has taken independent gameplay to a new height. The title allows players to build almost everything in the game that seemingly has no end. As a result, it has come to be a very popular title among streamers, most notably Pewdiepie.
ADVERTISEMENT
Article continues below this ad
The sandbox nature of the game lets players bring to life any crossover that they want into the game. However, nothing beats the official crossovers that Minecraft has been a part of. One of the most notable crossovers involving the game in recent years has to be Minecraft x Cartoon Network, which brought the iconic series Adventure Time into the game.
Recently, Dreamworks Studio joined the game for an epic crossover involving one of the most iconic movie series. The island of Berk has entered the world of Minecraft and has brought all our favorite dragons into the game. That's right, folks! It is a Minecraft x How to Train Your Dragon crossover DLC!
ADVERTISEMENT
Article continues below this ad
Further reading: Call of Duty Warzone: Best Kilo 141 Class Setup With Zero Recoil
ADVERTISEMENT
Article continues below this ad
'Train' with Toothless, Hiccup, and others with the new Minecraft x How to Train Your Dragon crossover DLC
The How to Train Your Dragon DLC went live in the game today, opening up exciting possibilities for the players. Here is what the official blog post has to say about this:
"Dragon riders! Grab your shiniest shield and tighten your braids; this is not a drill! We're about to take off for the island of Berk – and all the islands in the Barbaric Archipelago – because the DreamWorks How to Train Your Dragon DLC is here! There is no time to waste. We all need to pull together to get this blocky world of ours ready for Hiccup, Toothless, and all the other beloved Vikings and dragons. The DLC is out now, so nail down everything that could break by the flick of a tail and get rid of anything flammable. Can lava catch on fire? Let's not take any chances; it has to go."
ADVERTISEMENT
Article continues below this ad
Players have the option of both riding the skies atop a dragon, or taking a stroll at their own pace. If you are bored with either, you can join Hiccup on exciting quests and adventures! Furthermore, you can prove yourself helpful to the citizens of Berk by teaming up with Stoick the Vast, Astrid, Snotlout, and others.
This fun ride is already available for grabs, along with a free in-game Character Creator item!
Trending Stories