Aaron Boone Shows-Off Style With Personalized Kicks on Father's Day as New York Yankees Take On Toronto Blue Jays
Published 06/20/2022, 11:37 AM EDT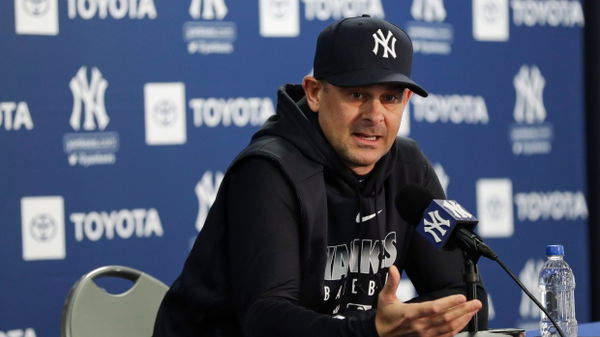 The New York Yankees are in the middle of a purple patch of form in MLB. With a record that sets them up on title-winning form, they have captured the imagination of many across the country. And with their offense and defense both clicking into place at just the right times. But the focus was on other quarters as they took on the Toronto Blue Jays at the Rogers Centre on Father's Day. Specifically on Aaron Boone and his stylish kicks that made their way north.
Aaron Boone has had massive upgrades to his reputation in 2022. With the league-leading Yankees setting the pace in MLB, they move into July with high expectations. Potentially even title contenders this season, the Yankees' dugout is full of stars with a growing reputation. In the middle of it all, manager Aaron Boone snagged the viewers' attention with his Father's Day-themed shoes. The Yankees lost 10-9 to the Blue Jays on the night, but Boone saw some attention for his snazzy footwear.
ADVERTISEMENT
Article continues below this ad
Aaron Boone showcases style quotient
Full of flair on the night, Boone showed up at the Rogers Center with designer shoes that honored those that came before him. And Boone was quite excited about it himself too. "Andy Friedman, an artist out of Brooklyn, made these," he added.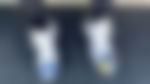 ADVERTISEMENT
Article continues below this ad
And he didn't just stop at one pair either. Boone honored all those he could. Sporting a pair with images of his father Bob and grandfather Ray at the front before the game, Boone pumped up the style quotient with a colored pair during the game's proceedings. The shoes also featured images of Boone himself as well as those of his children and brother Bret.
Boone was bullish about the Yankees' performance, going into the series closer. Said Boone, "Hopefully, we can finish off a really good weekend."
Aaron Boone's Yankees – Set for the pennant?
ADVERTISEMENT
Article continues below this ad
The New York Yankees look like a different team this season, and Boone is putting that down to the feeling of 'family' that is permeating through the squad. "And there's no question that this group is really tight," he added.