"He's Just Not Good…" – New York Yankees Fans Criticize Struggling Outfielder as He Makes Spring Training Game Fielding Error
Published 03/18/2023, 1:30 PM EDT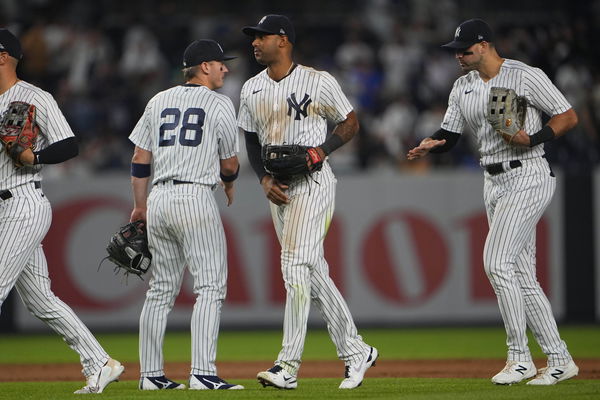 Spring Training has been an up-and-down affair for the New York Yankees. Some of their players are thriving, while others are struggling for form as the regular season draws near. The Bronx-based team is also suffering from injuries to important players. This has led to inconsistent performances and polarizing results. In one game the Yankees earn a resounding win and the next day, they will suffer an embarrassing defeat.
Fielding and pitching are particularly concerning areas for the Bronx Bombers as Opening Day gets closer. Most recently, fans heavily criticized a struggling outfielder for a terrible defensive blunder. 
New York Yankees outfielder Aaron Hicks faces fans' criticism after a defensive blunder
ADVERTISEMENT
Article continues below this ad
Aaron Hicks is one of the New York Yankees fans' least favorite players. In 2022, he struggled both offensively and defensively, leaving followers and supporters frustrated. Most recently, he made a fielding error during a game against the Detroit Tigers. He ran and attempted a diving catch, waving off Anthony Volpe, who might have had a better chance. Hicks eventually dropped the catch, leaving fans frustrated. Talkin' Yanks shared a video of the blunder on Twitter.
In the Tweet, Talkin' Yanks said, "Aaron Hicks calls off Volpe, makes an awkward dive, and cannot come up with this one". This mistake highlights just how much Hicks has been struggling defensively. But Isiah Kiner-Falefa tried to take blame for the error. According to Talkin' Yanks, Kiner-Falefa said, "That was probably my ball. I lined up on the wrong side. That can't happen in a real game. That's where I need to get better. I felt bad for Hicksie, that was supposed to be my ball."
Fans are severely criticizing the struggling Yankees outfielder for the play. They have reacted to the video negatively, with many slating Hicks entirely.
Some fans criticized his skill level, saying that he's just not good.
He's just not good. Volpe was in a tough, but decent spot to make that catch. Hicks is trying to prove himself, but the Yankees need to move on.

— Jon B. (@jon_b23) March 17, 2023
Oh brother this guy STINKS!!

— Nitz 2.0 (@sportsguy7194) March 17, 2023
I've lost count of the number of misplays Hicks has so far in spring- we're on at least 3 or 4 drops so far. A clown on rollerskates could replicate his play in left.

— Donald Stewart (@DStewart267) March 17, 2023
Other fans are saying that it is time to move on and get rid of him.
There is zero reason he is on the team other than they owe him money and they hate paying someone who is not playing on the team. It's a sunk cost @Yankees – cut your losses.

— josheagan (@josheagan) March 17, 2023
Why are we still dealing with this….it's over, move on

— New York Sports Fans (@nyfootballgmen) March 17, 2023
ADVERTISEMENT
Article continues below this ad
It will be interesting to see if Hicks is the Yankees' starting left fielder on Opening Day. Aaron Judge has also been playing in the left field and has looked good. But with Harrison Bader injured for the start of the season, there is a lack of outfield options.
Hicks is likely to stay
Despite a poor 2022 season and defensive struggles in Spring Training,  Aaron Hicks is likely to stay a Yankee. Yankees' manager Aaron Boone could possibly to name Hicks the starting left fielder for Opening Day. With Harrison Bader injured and prospect Jasson Dominguez being sent to Minor League camp, there are no other options.
ADVERTISEMENT
Article continues below this ad
Watch This Story: Ranking the Most Famous Captains of the New York Yankees Before Aaron Judge
Furthermore, Yankees top brass have not tried to trade Hicks this off-season or sign a new outfielder. What do you think of Aaron Hicks' defensive blunder? Please share your opinion on the incident down below.
Edited By: Gideon Mathson