Aaron Judge and Giancarlo Stanton Join Elite Company of Babe Ruth and Lou Gehrig After the Duo Belted Home Runs in Consecutive Games
Published 05/14/2022, 9:00 AM EDT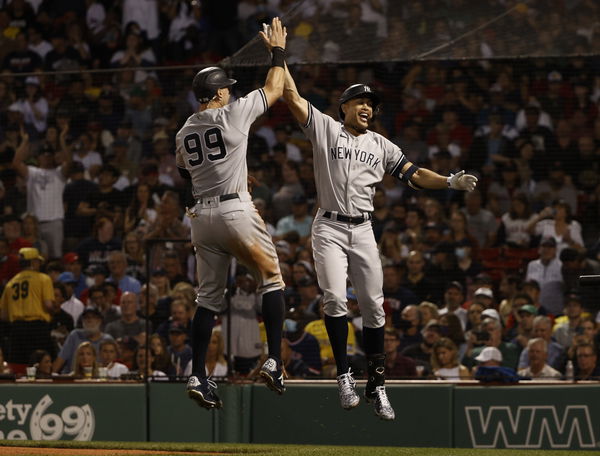 New York Yankees have become an unstoppable force in Major League Baseball. Under the leadership of Aaron Judge, the Pinstripes have been sensational this season. If not for the Baltimore Orioles series at the Camden Yards, the Yankees have dominated every series they have played in 2022.
The hitters have been truly unbelievable for the Yankees, especially Aaron Judge and Giancarlo Stanton. The dynamic duo of Judge (12) and Stanton (10) has smashed 22 home runs alone. It has not only helped the Yankees with a blazing start to the season, but the duo has also registered their name in the Yankees' history.
ADVERTISEMENT
Article continues below this ad
Notably, both Judge and Stanton are in fiery form. And after the recent game against the Chicago White Sox, the sluggers' duo joined the elite company of Babe Ruth, Lou Gehrig, Mickey Mantle, and Yogi Berra.
Aaron Judge and Giancarlo Stanton become only the third pair to hit 10-plus home runs in 32 games
In the 1930 season, MLB icon Babe Ruth (14) and Lou Gehrig (10) achieved this milestone for the first time in 32 games. A few years later, in the 1956 season, the iconic duo of Mickey Mantle (16) and Yogi Berra (12) achieved the same record while playing for the Pinstripes.
.@ESPNStatsInfo: The 32 team games needed for the Yankees to have 2 players reach 10 HR on the season are the 3rd-fewest in Yankees history.

— Marly Rivera (@MarlyRiveraESPN) May 14, 2022
And now, after the After 66 years, the dynamic duo of Aaron Judge (12) and Giancarlo Stanton (10) have done the same. Now, these two are also in the same bracket as those legendary players.
The Judge-Stanton duo has been a lucky charm
Though it is too early to judge, Judge and Stanton are one of the finest duos in the history of MLB. During their game, both hammered home runs against the White Sox. It is not the first time this duo has hit home runs in the same game.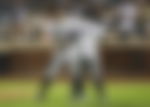 Per MLB.com, they have hit 22 times together in a game. And guess what? The New York Yankees have won the game on 21 occasions, including the last two games against the White Sox.
ADVERTISEMENT
Article continues below this ad
Talking about the Yankees, they also have the best win record in MLB. The Pinstripes are the only MLB side that has not lost more than ten games this season. With just eight defeats in 32 games, the Yankees are donning MLB 2022.
ADVERTISEMENT
Article continues below this ad
What are your opinions regarding the Yankees' performance this season?
WATCH THIS STORY: New York Yankees Star Aaron Judge's Impressive Workout Routine