Aaron Judge Celebrates His Wife's Stunning Feat in New York, But Fans Cannot Stop Speculating His MLB Future
Published 11/07/2022, 7:00 AM EST
Major League Baseball's 2022 season is now officially over. The new 'American League's most home runs in a season' record holder, Aaron Judge, is now a free agent. With no news from the New York Yankees' front office about any offer for Judge as of now, rumors are still going around of 'All Rise' going to another team. 
But the outfielder is taking it all easy and spending time with his wife, Samantha Bracksieck. As the number 99 awaits the offers from the Yankees and other teams, he becomes a cheerleader for his wife as she took charge to help and inspire people through running. 
ADVERTISEMENT
Article continues below this ad
How did Aaron Judge become a cheerleader for his wife?
The TCS New York City marathon returned yesterday, with more than 50,000 runners making their way through all five boroughs on the 26.2-mile course. The marathon was run by Samantha and as a good husband, Aaron Judge came to support her all the way throughout the whole course. But there was one of his buddies from the Yankees roster, designated hitter and outfielder Giancarlo Stanton. 
After tying the legendary Roger Maris' record, Judge told the NY Post, "My wife has been with me through it all." Now, it was his chance to show up and support her, and that's what he did. She finished the race in 4:12:22, averaging 9:38 per mile, according to unofficial results. She raced the first six miles at a 7:23 per mile pace. The outfielder was waiting for his wife at the finish line, and also presented her with a medal by Stanton on his side.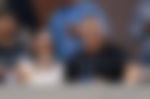 Judge and Samantha have known each other since high school and have dated before getting apart for quite some time. They reunited a couple of years later, made their first public appearance in 2019, and have gotten married two years after, officially making them high school sweethearts. 
How did the fans react to Judge supporting his wife and enjoying the time in free agency?
Nobody knows whether Judge is staying in New York as a Yankee or not. But that does not stop the fans from wanting it to happen. 
Pls make the guy on the right stay a Yankee

— Depressed Yankees fan (@ElfassyLevi) November 6, 2022
Anything that gives a hint is a good thing for fans!
His sneakers are Yankees colors. He's staying

— Breen (@danny_b_27) November 6, 2022
ADVERTISEMENT
Article continues below this ad
Maybe or maybe not!
It will be "something" that every and any picture of Judge from now until he chooses his next club/contract, will be some indication of a hint, whether he is staying or going!!! #Yankees

— Blake Harris (@blakemharris) November 6, 2022
ADVERTISEMENT
Article continues below this ad
Watch this story: Top 5 most electrifying home runs by New York Yankees star Aaron Judge
What do you think about Judge coming to support his wife, and where do you think he'll end up? Let us know in the comments below. 
Edited By: Rupak Kumar Jha