After Failing to Secure a $350 Million Deal With the Giants, Carlos Correa Puts His $315 Million Contract With New York Mets in Jeopardy
Published 12/24/2022, 1:38 PM EST

Follow Us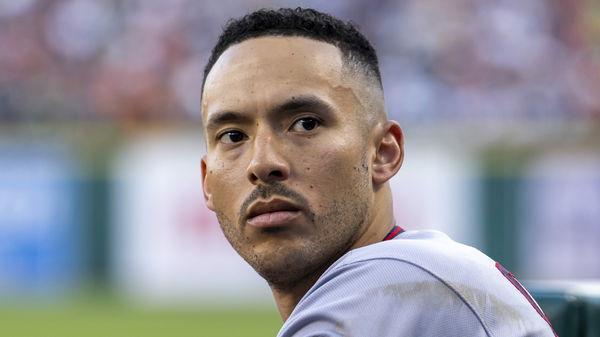 Days after San Francisco Giants deal fell apart to secure a $350 million deal, free agent Carlos Correa agreed on a new contract with the New York Mets. Notably, the Giants has had expressed their concern over an ankle injury that Correa sustained in 2014. A last-minute concern during the physicals was the reason the mammoth deal fell apart. But thanks to his super agent Scott Boras, Correa agreed to sign with the Mets for a whopping $315 million. However, this deal also seems to be in jeopardy.
Notably, the Giants' #350 million deal collapsed because of Correa's physical. And if reports are true, then the 2017 world champ's contract with the Steve Cohen-owned team is in doubt, too, for the same reason.
Carlos Correa's physical with the New York Mets raises concerns over his long-term deal
For those unversed, Correa, in 2014, required arthroscopic surgery to repair a fractured right fibula and minor ligament damage. Although he had the surgery in 2014, while he was 19 and a part of the Astros' minor league setup, he hit an RBI triple and his spike got trapped on the bag.
According to the Athletic, the Mets have raised concerns about Correa's surgically repaired lower right leg, which has now put Correa's 12-year deal in jeopardy. Both parties are working through it, but if the Mets continue to have concerns about his leg, they might even restructure the contract.
If by any chance this deal of Correa's also falls apart, the shortstop would have trouble entering the free market again. Since it would be happening after two teams showed concerns for the same reason.
What are the fans saying about recent development in Correa's deal?
Many baseball fans are mocking Correa for losing out on yet another big deal. But there still are a few people who are ex[ressing genuine concern about Correa and his career. There is still uncertainty about what is going to happen, but some baseball fans are also expressing what the Mets should do if they decide to go forward with Correa on their team.
Given recent updates, do you think the New York Mets will drop Correa or will make adjustments to his contract? Tell us your views in the comments below.
Watch this story: Top 5 horrific and life-threatening MLB injuries
Edited By: Abhishek Kumar