Alex Rodriguez Flexes the Power of His $350 Million Net Worth in Front of NBA Billionaire Owner to Close a Deal on National TV
Published 08/26/2022, 1:30 PM EDT
When it comes to boasting about something, the Yankees icon, Alex 'A-Rod' Rodriguez, is not known to be left behind. Apart from being a baseball legend, Rodriguez has been a man of many talents. From being a businessman and a philanthropist, he also doned the role of a "Shark" on the popular TV show, Shark Tank.  
The guest shark once wanted to close a deal with Cole and Emily Williams for their condiment company, Slice of Sauce. But when the billionaire, Mark Cuban, wanted to say something, A-Rod decided to reduce the equity on a condition relating to Cuban.
ADVERTISEMENT
Article continues below this ad
Did Alex 'A-Rod' Rodriguez made Mark Cuban angry?
The owners of Slice of Sauce got an offer from A-Rod on a structured deal for 20% equity. Then, Emily asked him if he could go for 15%. But when Mark said, "So guys, before you jump," Alex did not even let him complete, and said, "Before you go, I'll do it for 15%, but that means that you can't listen to Mark."
Cole and Emily thought for a bit and then accepted the offer.
The former baseball player showed his power in front of the billionaire, Mark Cuban. Mark did looked a little annoyed, but he still maintained his smile after this happened.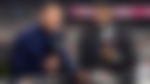 Maybe the Dallas Mavericks owner may have given them a better offer or might have disrupted the offer that Alex made. But, A-Rod was not going to let any of it happen.
When did Rodriguez appear on the Shark Tank?
Following the year of his retirement, Alex 'A-Rod' Rodriguez appeared on the Shark Tank as a guest judge in 2017. Apparently, Alex only had two dreams, one to be a baseball player and the other to be a businessman. 
ADVERTISEMENT
Article continues below this ad
He managed to fulfill both his dreams and is known to be an investor as well. He invested in multiple ventures and got into business with the billionaire, Mark Cuban and the businesswoman-investor, Barbara Corcoran as well. 
Watch This Story: Here's a quick look at how MLB goat Alex 'A-Rod' Rodriguez spends his millions
ADVERTISEMENT
Article continues below this ad
He loves doing business and investing as well. That's why he appeared once again as a guest judge next year in Shark Tank.
What do you make of Rodriguez in the role of a judge in the famous show? Let us know your valuable thoughts in the comments below.
Edited By: Vibhanshu Kumar