"All Rise For the Judge" – Aaron Judge's Coy Move Steals the Show at Madison Square Garden During a New York Rangers Game
Published 01/24/2023, 7:45 AM EST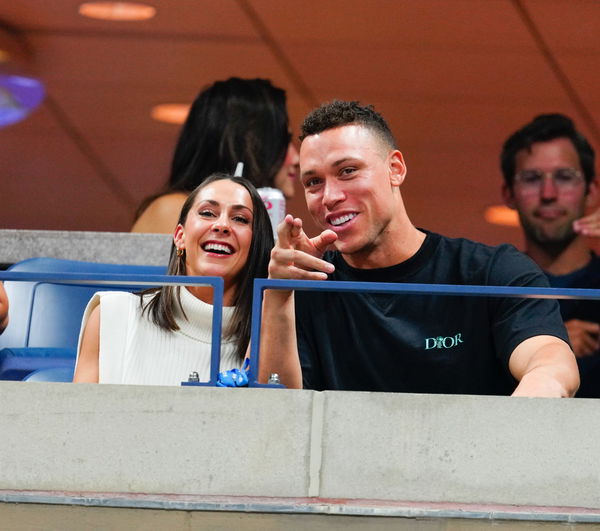 Aaron Judge has had an extremely eventful last couple of months. The Yankee star entered free agency after a fantastic 2022 season in which he won the AL MVP award. During his free agency, Judge made Yankee fans' hearts drop as rumors circulated that he might leave. But he eventually signed a new contract with the Yankees and committed his future to the team. 
Following this, the Yankees named Judge the new team Captain, a position that has been empty since Derek Jeter retired. The new Captain must be having a hectic off-season. But he recently showed support for another New York-based sporting franchise.
Aaron Judge was seen supporting the New York Rangers at Madison Square Garden
ADVERTISEMENT
Article continues below this ad
That's right! Aaron Judge was recently seen supporting the New York Rangers at Maddison Square Garden. The Yankee's new captain took time out of his busy off-season to go support the New York-based hockey team. The Rangers shared a video of Judge receiving a standing ovation on Twitter. The Yankee star smiled when he was being shown on the Jumbotron.
In the Tweet, the Ranger's Twitter account said, "A standing O for the Captain. #AllRise". Fans all across the Garden clapped and cheered for Judge. It was truly a spectacle to behold. 
Fans reacted to the Tweet and were generally excited. Some saluted him while others were generally excited by their Captain. 
Feels good to get to officially call him Captain 🫡

— Side Retired Pod (@SideRetiredPod) January 24, 2023
ADVERTISEMENT
Article continues below this ad
Luckily for Judge, the Rangers ended up winning the game, they beat the Florida Panthers 6-2. People are looking forward to seeing Judge play soon. There are high expectations for him, especially after being named captain and signing his 9-year $360 million deal. Furthermore, the Yankees broke several records while signing Judge to his new contract. 
Judge signed the most expensive contract given to a free agent
By signing his $360 million deal, Aaron Judge broke the record for the largest deal signed in free agency. According to MLB.com's Bryan Hoch, "It is the largest contract awarded to a free agent in Major League history". Furthermore, the contract has the highest annual average value for a position player in MLB history. 
ADVERTISEMENT
Article continues below this ad
Watch This Story: Ranking the most famous captains of the New York Yankees before Aaron Judge 
Not to forget, the Yankees also broke a record for the biggest contract in franchise history. Judge will now have the pressure of living up to this contract. But he has reportedly been working hard this off-season and is taking his captaincy very seriously. What do you think of the fact that Aaron Judge went to watch the Rangers play?  Please share your thoughts in the comments below.
Edited By: Gideon Mathson