"Already Faking Injuries Like His Pops"- Mike Trout's Cheeky TikTok Prank on His Son Triggers the MLB World
Published 01/20/2023, 7:50 AM EST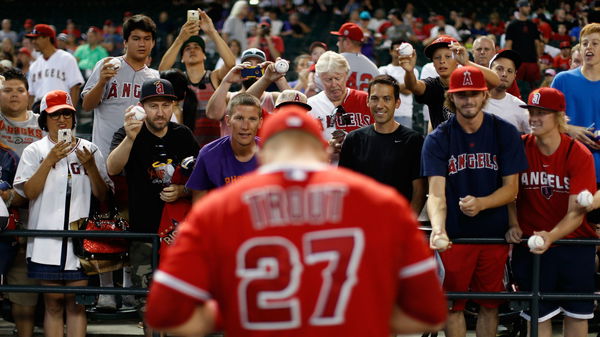 Mike Trout, the ten-time MLB All-Star, has been a dominating force in baseball for years while playing for the Los Angeles Angels. His numbers rival those of the legendary Babe Ruth, with over 200 stolen bases and more than 300 home runs. 
But Trout's impact extends beyond the ballpark, as a loving and playful father to his son, Beckham Aaron Trout. In 2020, he welcomed his child into the world and recently shared a playful moment when he played a prank on his little one, eliciting a dramatic cry from his baby.
Mike Trout joined in on a TikTok trend:
ADVERTISEMENT
Article continues below this ad
The viral TikTok trend, where parents pretend their babies hit their heads on a door frame, has caused quite a stir among parents and social media users alike. The challenge involves pretending that a baby has hit their head on a door frame, leading to divided opinions on whether it's all in fun or crossing a line. 
Even baseball superstar Mike Trout got in on the act recently, using the challenge to playfully gauge the reaction of his own baby, Beckham. While some found the moment unnecessary and their feelings had flared, others found the moment amusing and made cheeky comments like, "The most controversial thing trout has ever done." 
Most controversial thing trout has ever done

— Trevor (@trvrstark) January 19, 2023
Some people didn't find the prank amusing, however. One reply made jest of the situation by saying, "Already faking injury like his pops."
12-18 months in therapy for that one.

— chukdotcom (@chukdotcom) January 19, 2023
Think he's crying just based off the shock. 🤷🏻‍♂️

— Immortal (@thebringerx) January 19, 2023
Is that his pantry? That's bigger than my living room.

— Rob Thayer (@RobThayer_) January 20, 2023
Mike trout has a tiktok?! MY KING!!!

— Mitchell (@MitchellMerriam) January 20, 2023
Some people were in awe of Trout's pantry, while others were bemused that the athlete had a TikTok.
ADVERTISEMENT
Article continues below this ad
A deeper look into Mike Trout's off the field life 
Mike Trout has cemented his legacy on and off the field. According to theanalyst.com, the baseball phenom has the largest contract in baseball history. He has been with the Angels since the beginning of his career and is also a dedicated philanthropist with his wife Jessica.
Together, the couple has been making waves in their community, working on initiatives such as providing meals, promoting children's mental health and wellness, and raising awareness for suicide prevention – an issue that hits close to home for them as Jessica lost her brother to suicide. The couple named their baby's middle name – "Aaron" after Jessica's brother.
ADVERTISEMENT
Article continues below this ad
WATCH THIS STORY: From Babe Ruth To Derek Jeter: New York Yankees Legends Who's Jersey Number Has Been Retired 
Even with the departure of the two-way sensation after the 2023 season – Shohei Ohtani, who is going to be playing for Japan in the world classic, the Angels have a lot to look forward to this season, with their loyal player Trout.