Bizarre Umpire Call Surprisingly Outdoes Savannah Bananas' Ridiculous Outfits During a Baseball Game
Published 03/14/2023, 3:19 PM EDT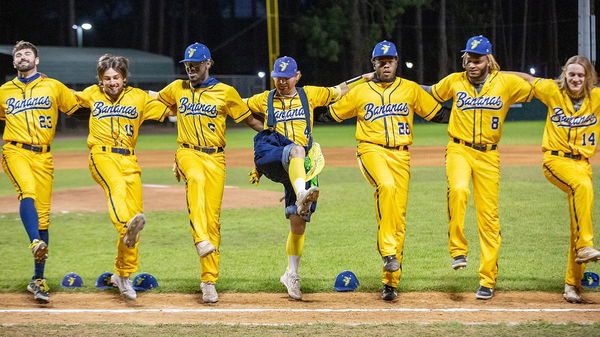 The Savannah Bananas are at it again. The exhibition team from Georgia has taken the baseball world by storm and shows no signs of halting their gear anytime soon. It's only the beginning of 2023 but some of the biggest pop culture moments, or at least, baseball culture moments, have already taken place. And it's all thanks to the Bananas.
In the vein of basketball's Harlem Globetrotters, their aim is to make baseball fun to watch. This is an age where ticket prices are rising and games becoming less interesting. Sitting through nine innings is something that a lot of people can't be bothered to do, and that's where the Banana Ball comes in. Aimed at giving the crowds a good time, founder Jesse Cole focuses more on entertainment than baseball. And people can't get enough.
The Savannah Bananas deal a strike out in a rather fancy manner
ADVERTISEMENT
Article continues below this ad
On Monday's game, the yellow team struck out the pink, and then the umpire started dancing. The Bananas players celebrated in their own way as the catcher and pitcher broke out into dance. The Savannah team's official Twitter page posted a clip of the moment with the caption, "Bet you've never seen a strike three call like this before🫣 (Yes, we are playing in kilts.)"
Only multiple watches of the video can do justice to the action-packed 7-second clip. The pitcher throws, the batter misses and walks off dejectedly, while everyone else celebrates. The umpire does a 180 and starts wriggling his waist enthusiastically at the camera. The catcher does his own dance, while the pitcher seems like the only 'normal' one as he walks in a circle, all the while looking back at the pitch.
And yes, the players were wearing kilts! Yellow skirts patterned with black checks, leaving everyone delighted.
Fans go absolutely bananas over their performance
(Haha, get it?) The Savannahs never fail to put a smile on their audience's faces, and this moment was no different. Fans took to the comments to share what a great time they had.
I had to watch it multiple times as every player was doing something different as well!

— keith montgomery (@kklamonty) March 14, 2023
Great scott he was kilt.

— Micah S. Burner (@my_sweet_burner) March 14, 2023
Some even referred to the iconic movie franchise Naked Gun, in one of which Leslie Nielsen plays an umpire and does a split on the field.
ADVERTISEMENT
Article continues below this ad
ADVERTISEMENT
Article continues below this ad
It's entertainment pro-max!
WATCH THIS STORY – How Savannah Bananas' Pioneer Broke Baseball's Unwritten Rules to Turn A $1,800,000 Debt to Miniting Over $200,000 Per Game
Edited By: Deepika Bhaduri