Boston Red Sox Slugger Enrique 'Kike' Hernandez Sends Prayers to a Loyal Fan's Family After Their Tragic Loss
Published 01/20/2023, 10:50 AM EST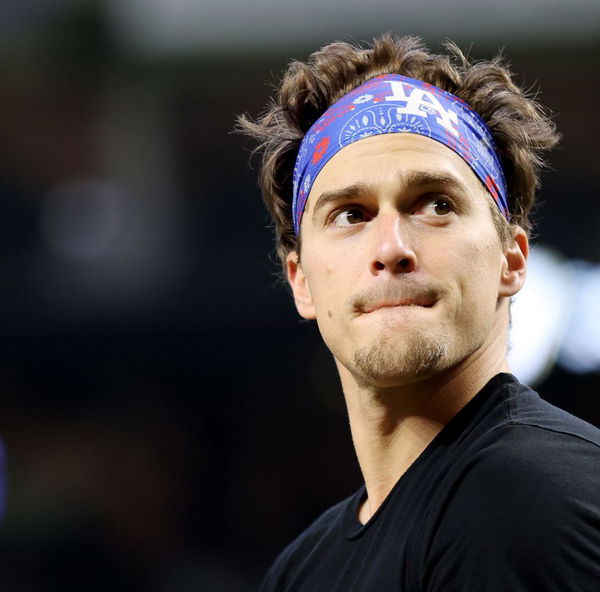 Being one of the oldest sports in the country's history, Major League Baseball has fans from all generations. Even though the game isn't the same as it was years ago, some fans hold it dear to them. For some, the game and the players are more than just a sport and athletes. People look up to them, get inspired, and sometimes want to treat them as a part of their family representing their state. One such player is Enrique 'Kike' Hernandez.
Therefore, when the massive fan of the Red Sox utility player Kike took her last breath yesterday, a family member reached out to the MLB player to honor her request. And showing his graciousness, the baseball player acknowledged that a family member was reaching out and praying for him and his family.
Kike Hernandez received the message from his loyal fan!
ADVERTISEMENT
Article continues below this ad
A Twitter user John Sparaco posted last night that his aunt Colleen passed away a day before after fighting a rigorous battle with cancer. While talking about his aunt, he wrote about how she loved her family, the Buffalo Sports, and the Red Sox. Out of the Red Sox team, her favorite player was Kike Hernandez. Owing it to her favorite baseball player, she also had a t-shirt that said, "If I die today, tell Kike Hernandez I loved him."
Her nephew honored her request and reached out to Hernandez the only way he knew how. In return, the baseball player acknowledged the nephew kept his aunt's wish. Therefore, he replied, "I'm very sorry for your loss! Message received. Sending you and your family a big hug and many prayers."
By this, Hernandez told her that her message to him was well received. He felt sad for Sparaco's loss and sent his condolences as well. 
Baseball community also poured their love for Hernandez's fan
On one side, the fans appreciated that Hernandez acknowledged this message. On the other side, they all sent their condolences to the Sparaco family for losing a loved one.
Thank you so much, Kike ❤️ Words cannot describe how happy she would have been to see this message.

— John Sparaco™ (@JohnSparaco) January 19, 2023
R.I.P AUNT COLLEEN. YOU WERE (AND STILL WILL BE AS SHE'LL WATCH OVER YOU FROM ABOVE) TO HAVE HAD AN AUNT WHO LOVED YOU SO MUCH KIKE!! SHE'LL DEFINITELY KEEP HER EYES ON YOU TO MAKE SURE YOU'RE DOING OKAY. ❤️🙏❤️🙏 pic.twitter.com/B6ih4MaHLG

— Patti Torrey (@patti_torrey) January 20, 2023
Thank you so much, @kikehndez , This would have meant so much to my sister. She adored you. You're the best!!! 🤗❤😥 And, thank you, @JohnSparaco for sharing this. She'd be so happy right now! 😥❤🤗

— Maria Sparaco (@MSparaco1) January 19, 2023
ADVERTISEMENT
Article continues below this ad
ADVERTISEMENT
Article continues below this ad
Do you think Hernandez reacted the right way? Let us know in the comments below!
Watch this story: Home runs to catches: Kike Hernandez's heroics in Boston Red Sox vs Houston Astros
Edited By: Abhishek Kumar