"Can We Get This Done?"- Aaron Judge on How a 3 A.M. Phone Call to Hal Steinbrenner Led Him to Carry on Derek Jeter's Legacy
Published 03/12/2023, 6:21 AM EDT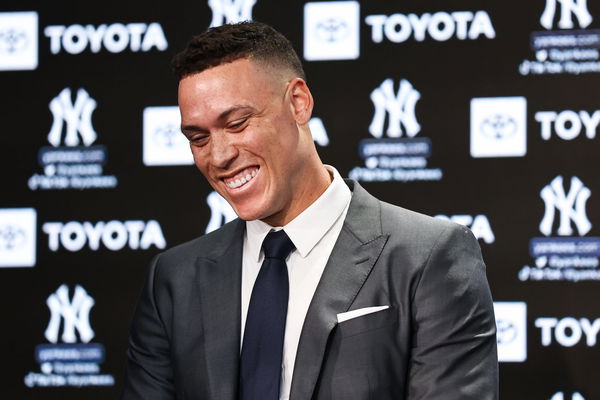 After having a record-breaking season in 2022, the New York Yankees star Aaron Judge entered free agency. While testing the free agency waters, Judge courted some attractive offers from multiple teams. However, his heart remained in the Bronx, and that's where he wanted to spend the rest of his career. But at one point, it seemed like All Rise would be going elsewhere until a late-night call from the Yankees owner Hal Steinbrenner.
When matters became serious, Steinbrenner stepped up. General Manager Brian Cashman had brought in reinforcements to bring Judge back. In the end, Steinbrenner did become successful but had to work pretty hard for it. Soon as he re-signed with the Yanks, he got the chance to carry on Derek Jeter's legacy by becoming the sixteenth captain of the New York Yankees. Little did anyone know, all of it was possible only because of a 3 am phone call. 
How did a phone call help Aaron Judge to carry on Derek Jeter's legacy?
ADVERTISEMENT
Article continues below this ad
Judge was poised to exceed the most significant contract, if not by the Yankees, then by the Giants or the Padres. Steinbrenner had gone to Judge's house in Tampa twice during the off-season to make him come back.
At the time when BAJ's agents were courting offers from teams, he was on vacation with his wife while being in touch with all the negotiations taking place. One morning in Milan, Steinbrenner had woken up feeling uneasy about last night's conversation with Judge.
Apparently, he thought that he failed to understand Judge's desires. Thus, he sent him a text at what was midnight in California. The AL home run king did not reply to the text until three hours later. Then, he called him at 3 am and said, "being able to call him up on the phone and say, 'Hey, this is where I'm at. This is me just talking man to man to you. I'm showing you my cards, everything that is on the table. This is where we're at. This is where I want to be at. Can we get this done?'"
ADVERTISEMENT
Article continues below this ad
And the rest is history!
Both parties agreed, and Judge, who had come close to signing with either the Padres or Giants, came back home to New York. Within a month of his extension, Steinbrenner made him captain, the position which was left empty ever since Hall of Famer Derek Jeter retired in 2014. 
ADVERTISEMENT
Article continues below this ad
Watch this Story: Top 5 most electrifying home runs by New York Yankees star Aaron Judge 
And now, he will be carrying on his legacy when the ultimate showdown starts on March 30. How do you think Judge will carry on Jeter's legacy? Let us know in the comments below!
Edited By: Abhishek Kumar