"Cohen Is Buying Him New Bones.."- Bizarre Carlos Correa Scare Leaves the New York Mets in Jeopardy
Published 12/26/2022, 6:30 AM EST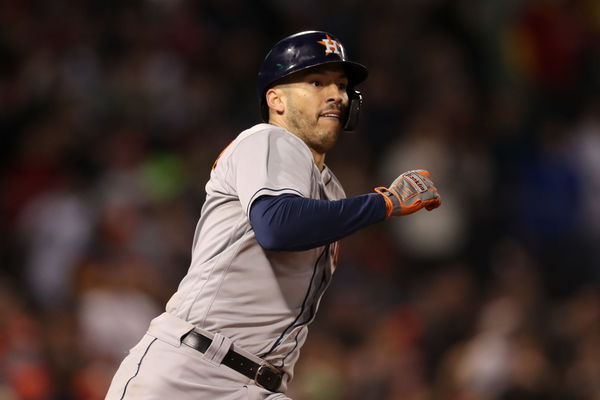 Carlos Correa has had a rather tumultuous last few days. The All-Star shortstop has signed two massive contract deals in the span of a few days. After his 1st deal with the Giants went off, the second one with the New York Mets is now in serious jeopardy. Notably, the Mets agreed to a 12-year $315 million deal with Correa, but issues with the medicals have popped up.
Both deals started out fine, but when it came time for the medical, things started getting murky. Both Correa and the Mets will be in trouble if the deal falls apart. But there seems to be a ray of hope that it may get done.
Carlos Correa and the Mets are reportedly working on a solution
ADVERTISEMENT
Article continues below this ad
According to Jon Heyman of the New York Post, the same issue that popped up with the Giants has shown up with the Mets. The only difference is that the Mets and Correa are trying to find a solution. In a tweet, Heyman said, "Mets, Correa working on things after same issue flagged in medical".
Although the deal is still uncertain, this is a step forward for both parties. It will be interesting to see how things progress in the next few days.
Fans have reacted to the tweet and are wondering what the Mets and Correa are working on. Some have offered examples of what might be happening, with others simply mocking the deal.
Cohen is buying him new bones probably

— Phillies Enjoyer 🎄💫 (@PhilliesEnjoyer) December 25, 2022
i would hope mets doctors flagged the same things the giants doctors did.. or else the mets would have some big problems lol. not sure why mets/fans would expect a clean physical lol

— Eric Soranno (@eric_soranno) December 25, 2022
Maybe the Mets need to offer Correa a front office position. 12 years @ $75,000/year. No physical required.

— I_M_Pag (@I_M_Pag) December 25, 2022
It's now been more than 3 days since his physical and no resolution in sight. No matter how much Jon tries to imply that all is well, there is obviously a lot more disagreement than he says. Who knows how this ends, but feel bad for Mets fans who received a Correa jersey today.

— Tim's Streak is at ONE!. 💉💉💉💉 (@JaysFan42049) December 25, 2022
Jon, any word or idea what level of concern revolves around ability to insure the contract? I suspect the issue is an imaging study which shows some loss of bone/necrosis or whatever that doesn't affect performance now but puts Correa at risk for catastrophic injury in future.

— Steven Safran (@SGSafran) December 25, 2022
If this deal does get rescinded nobody has had that work out better for them than the mets. Nimmo to reds was stopped over medicals. Same with flores over the gomez medicals. Maybe baty wins rookie of the year

— K (@Kwall1122) December 25, 2022
I said it from minute one. When the #giants dropped him from signing, the #mets should have been running so fast, people were yelling "run Forrest run" as they went the other direction.

I hope @mets don't sign him. They don't need that. #LGM

— Danny 🇺🇸🏒⚾️🐈 (@HawkeyeRoad) December 25, 2022
Cohen has all the leverage here. Time for him to doing something smart instead of just throwing money around

— JJ Mang (@JJ_Mang_) December 25, 2022
ADVERTISEMENT
Article continues below this ad
Many Mets fans are hoping the deal will go through. But there is a lot of uncertainty surrounding Carlos Correa's medical. It will be interesting to see the conclusion of this deal.
Why the Mets should make the Correa deal happen
Although there may be concerns about Correa's health in the long term, he will be a huge asset for the first few years of his contract. Additionally, the Mets may not have a better opportunity to add to their already talented roster than now. Correa showcased his leadership while playing with the Minnesota Twins last year.
ADVERTISEMENT
Article continues below this ad
Watch this story: Top 5 horrific and life-threatening MLB injuries
Furthermore, the All-Star shortstop has remained perfectly healthy in the last few years and the Mets will have a tough decision to make. Do you think that Carlos Correa will sign with the Mets or will the deal collapse? Please share your thoughts in the comments.
Edited By: Abhishek Kumar