Despite His Legendary Exploits, Derek Jeter Couldn't Topple Billionaire Jeff Bezos in This Elite 2014 List
Published 11/20/2022, 12:20 AM EST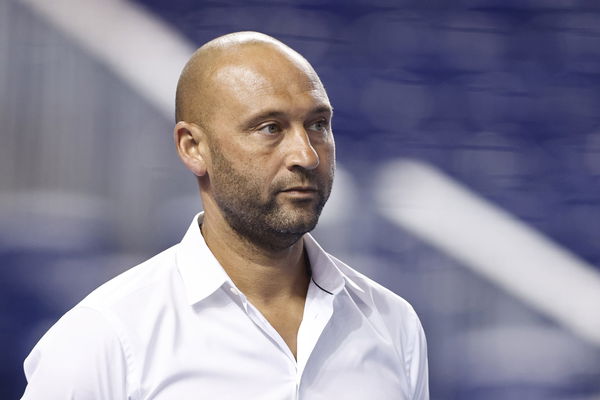 Baseball legend Derek Jeter had achieved a lot in the 20 years that he played in the MLB for the New York Yankees. He won five World Championships and eventually made his way into the Hall of Fame.
ADVERTISEMENT
Article continues below this ad
But long before he became a Hall of Famer, he was a leader that had risen in baseball at a time when everything was tainted due to allegations of widespread usage of banned drugs. Somehow, when all that was happening, Jeter focused on giving his best in the ballpark. It helped him become a legend and also a leader on the field. 
ADVERTISEMENT
Article continues below this ad
In what list did Derek Jeter got left behind?
Just before he played his last season for the New York Yankees, the Fortune's list of the top leaders of the World was revealed. And naturally, Jeter was on the list. 
But the 2014 list of the top leaders had ten people ahead of the baseball legend Derek Jeter. He was only behind the likes of Pope Francis, former President Bill Clinton, and Amazon's Jeff Bezos.
ADVERTISEMENT
Article continues below this ad
No matter the accolades he achieved over 20 years of his career, he could not get ahead of the founder of Amazon, Billionaire Jeff Bezos. There is no doubt that the former shortstop Derek Jeter is an incredible leader, but he needed some more work done to get ahead of the business tycoon. 
What are some of the achievements of Jeter in MLB?
Starting with the biggest of them all, he got inducted into the Baseball Hall of Fame. The jersey number he wore throughout his career, the number 2, was retired as a tribute to his legendary career, after he retired from the big leagues. 
ADVERTISEMENT
Article continues below this ad
Watch this story: From Babe Ruth to Derek Jeter: New York Yankees legends who's jersey number has been retired
He is the Yankees' all-time leader in career hits and many more. His accolades include being an all-star player 14 times and the winning the World Series five times. Moreover, he has also won five Gold Glove Awards, five Silver Slugger Awards, two Hank Aaron Awards, and a Roberto Clemente Award. He has seen the dream of being a Yankee for life. He worked hard enough for it and did not stop even after achieving it.