"Don't Know About 'Hugo' But You're Definitely the Boss"- Fans Melt as Shohei Ohtani Suits Up For a Stylish Shoot
Published 01/25/2023, 7:55 AM EST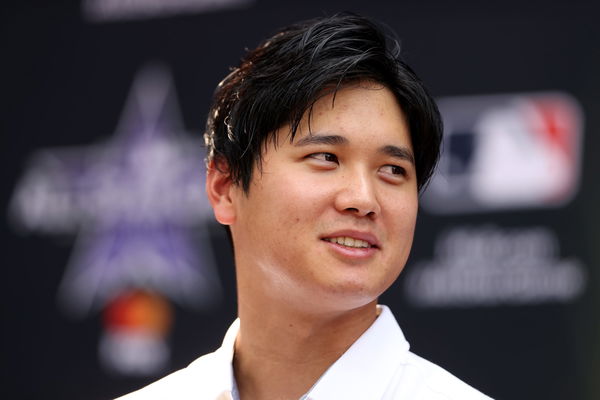 The ongoing MLB off-season can be a source of entertainment for baseball fans without having an actual game to look at. The Angels' two-way phenom Shohei Ohtani has been creating a buzz in this off-season and does not seem to stop anytime soon. Soon as the 2022 postseason ended, speculations about Shotime's free agency after the upcoming season started getting around. While the man himself has not spoken one word about it yet, MLB pundits are making predictions of him getting approximately $500 million worth of contract.
Whereas the player himself has now shocked his fans by giving a peek into his life during the off-season. Some people like to have a presence online while not being regularly active. And Ohtani, without a doubt, is one of those. Therefore, whenever he posts, it creates a buzz among his fans, which is what happened when the pitcher posted for the third time this year. 
How did Shohei Ohtani give a peek into his life?
ADVERTISEMENT
Article continues below this ad
Being a famous player, the two-way phenom comes with various opportunities to be on the cover of multiple magazines or part of advertisements. And Ohtani, being who he is, notably got a chance to shoot for the premium luxury brand Hugo Boss.
Ohtani's first two posts to his fans were either related to the game or of the view from an airplane. The phenom posting himself shooting for a major brand is a rare treat for the fans, as it happened for the first time ever on his Instagram handle. 
 

View this post on Instagram

 
Meanwhile, the fans are not only shocked but showing mixed reactions of being happy and confused. They're delighted that he posted himself, and are confused at the same time. They think that the ball player hired someone else to handle his social media.
How are the fans reacting to Ohtani's latest post?
It's been almost three years since Shotime made a splash on social media, making his debut on Instagram. Since then, he has garnered a massive following of 1.6 million. There is no doubt that this number will go on increasing as his play gets better on the diamond.
But in these three years, the baseball player has posted a total of 25 times. His latest is one of its kind. While fans don't know when it will happen again, they're happy that they got to see this side of their favorite player. 
Following are some of the reactions of Ohtani's fans.
ADVERTISEMENT
Article continues below this ad
The users said, "Don't Know About 'Hugo' But You're Definitely the Boss", "Ok who did Shohei hire to finally run his social media?" Meanwhile, the others said, "What happened to Shohei? I'm so happy that you posted this," and "Mr. Make-up? Are you a stylist ? Co-stars?? I'm so jealous ❤️."
Whereas one of them got shocked that she wrote, "NO WAY SHOHEI ANOTHER POST."
Although it might be unbelievable for some fans to see Ohtani posting, they are indeed happy for their star player sharing this moment with them. 
ADVERTISEMENT
Article continues below this ad
Watch this story: From Serena Williams to Shohei Ohtani: Biggest stars who won AP athlete of the year before Aaron Judge 
What do you think of Ohtani's looks for this shoot? Let us know in the comments below!
Edited By: Abhishek Kumar