Fan Makes a Huge Sacrifice to Witness Legendary Mike Trout
Published 05/03/2022, 9:09 AM EDT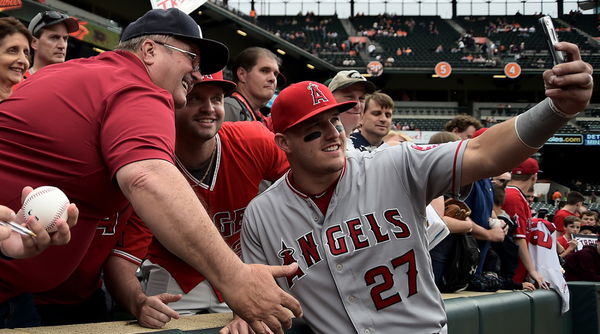 Mike Trout is a bona fide MLB superstar. And the fans know it too. The athlete has a superlative offensive output, but it is his fan interactions that make him the model for several great moments in MLB. As Mike Trout made his way to the diamond when the LA Angels took on the Chicago White Sox, little did he know that he was going to create an iconic moment in MLB. Selfies in sports are now commonplace, but to have one mid-game with arguably the greatest hitter in the past decade is definitely special. And one LA Angel fan just might have had his wish granted.
The LA Angels have made a flying start to their campaign. With a 15-9 record so far in the AL West, they sit pretty atop the standings. Storming into an early lead at the top of the first, the Angels never let the lead slip as the game went on. Also, the fans certainly made the most of it. In a day game, and a sultry afternoon, one fan was perhaps a more unexpected spectator than any other. Especially for his school.
ADVERTISEMENT
Article continues below this ad
Fan skips school to meet Mike Trout
As the LA Angels finished their series with the Chicago White Sox in an afternoon game, one Chicago schoolboy pulled off the ultimate excuse to skip a day in school. Holding a sign to bring Mike Trout out to see him, the fan pulled off the perfect excuse to skip out on a school day.
ADVERTISEMENT
Article continues below this ad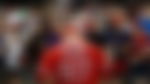 "We skipped school for a selfie with Mike Trout," the sign read. And Mike Trout happily obliged, and making his way to the bleachers to click the picture, the fan looked overjoyed as his wish just came true, and he rushed back into the stands with the selfie on his phone.
Mike Trout has made an explosive start to the new season. Scoring 6 home runs in 68 at-bats. Mike Trout has had a significant part in the Angels' offensive performance. With 11 RBI in the season so far, he has compensated for 2021 AL MVP Shohei Ohtani's slow start.
ADVERTISEMENT
Article continues below this ad
Watch This Story: Shohei Ohtani and Mike Trout Come Together As LA Angels Dominate the Cleveland Guardians
The question with the LA Angels has always been whether they can make a bid for the post-season, and their success at such a time. The regular season has always been where they dominate. But do you think this could finally be the season they make it out? Or is 2022 set for another great regular season showing with nothing to show for it for the Angels?