"Gives Me Goosebumps"- Aaron Judge Relates to Young Fan Who Broke Down Into Tears After Receiving His Home Run Ball
Published 05/05/2022, 8:00 AM EDT
Aaron Judge is probably the most lovable guy in the whole baseball. From leading a star-studded team to being a monster with the bat and also sharing a unique bond with his fans, the Yankees slugger can do it all. That is what makes him different from others.
In a recent game between the Toronto Blue Jays and New York Yankees, something very special happened in the stands. When Judge blasted a home run in the Rogers Centre, a Blue Jays fan collected the ball, however, he gifted the home run ball to a young Judge fan, who was crying beside him.
ADVERTISEMENT
Article continues below this ad
This whole incident was captured on the camera, and it became viral in no time. The young Yankees fan even thanked and hugged the Blue Jays fan for his kind gesture. This incident was quite emotional for Judge himself. So a day later, he decided to meet his young fan and share some pleasant moments with him.
Aaron Judge remembered his old days after meeting his young fan
Irrespective of the result of the game, this young fan stole the limelight with his heartwarming reaction after receiving Judge's home run ball. The Toronto Blue Jays put a break on the 11-game winning streak of the Yankees and won the third game of the series. Despite losing the game, Aaron Judge went to meet his young fan, who received his home run ball on Tuesday.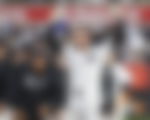 After meeting his idol, Derek Rodriguez, the young fan, broke down into tears, as he could not control his emotions. The two also chatted for a minute. Reacting to his meeting with the young Rodriguez, Judge said he got goosebumps when Rodriguez took his name as his favorite player.
ADVERTISEMENT
Article continues below this ad
"I asked him who his favorite player was, and he turned around to show me his little jersey. That still gives me goosebumps to this day, to see little kids wearing my number, wearing my jersey. I used to be in his position, that little kid, rooting on my favorite players and teams. That was a pretty cool moment," said Judge.
ADVERTISEMENT
Article continues below this ad
Notably, Judge is in the last year of his contract with the New York Yankees. After the 2022 season, he will become a free agent and will also be able to listen to offers from various teams. If Judge does not continue with the Pinstripes after 2022, it will be heartache for the Yankees fans.