Have the Houston Astros Managed to Recreate Carlos Correa With Their Newest Shortstop?
Published 05/04/2022, 6:00 AM EDT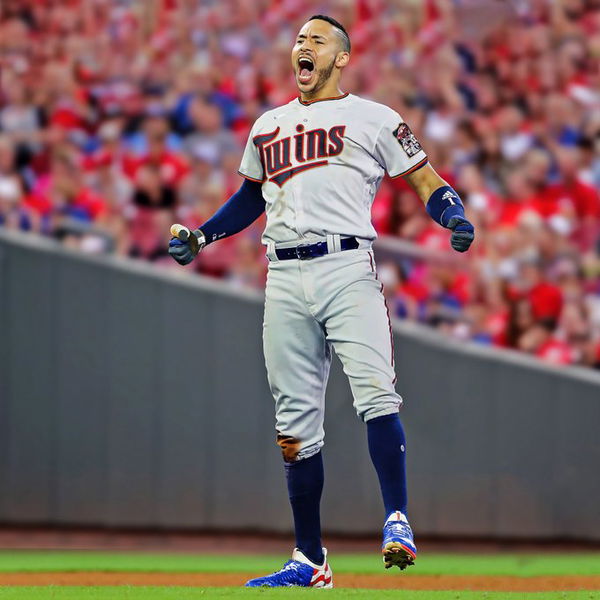 Houston Astros shortstop, Jeremy Pena, hit a two-run home run on Monday against the Seattle Mariners. Pena was the replacement for star shortstop Carlos Correa, who signed with the Minnesota Twins. With the help of Pena, the Astros won the game 3-0 at the Minute Maid Park in Texas. It has been around three weeks since the season opener, and Jeremy Pena has proved every critic wrong with his splendid performance.
After getting included in the 40-man roster of the Houston Astros in November 2021, shortstop Jeremy Pena worked hard, day and night. Therefore, before the 2022 Spring Training, he became the new starting shortstop for the Astros.
ADVERTISEMENT
Article continues below this ad
The main reason behind this change was that Carlos Correa signed with the Minnesota Twins for 2022. With that, Pena made his MLB debut as the starting shortstop for the Houston Astros on April 7th, 2022, which was the 2022 Opening Day. And just two days after his debut, Pena scored his first MLB home run on April 9th, 2022.
Jeremy Pena vs Carlos Correa
So far so good for Jeremy Pena with the Houston Astros. But fans are noticing another thing, which is a substantial growth in his performance compared to the person he replaced, Carlos Correa. After Monday's game against the Mariners, Jeremy Pena has now scored five home runs already in the MLB 2022 season.
Above all, his RBI is 12. So if we compare this to Correa, he has scored just one home run for the Minnesota Twins with an RBI of 8. Fans have quickly started concluding that Pena might be a better shortstop than Correa. But some analysts say that it's too early to tell, as it has just been 26 days since Opening Day 2022.
Jeremy Peña has just sent that into orbit!! That's my SS! 5 HR, 12 RBI now! For comparison, here's Carlos Correa's stats: 1 HR, 8 RBI pic.twitter.com/4nqw7IyQTu

— Maanav Gupta (@MGSportsTalk) May 3, 2022
ADVERTISEMENT
Article continues below this ad
Baseball pundits consider Carlos Correa as one of the best shortstops this game has ever seen. And after having a powerful 7-year journey with the Astros, Correa left a vital spot to be filled. It is not a secret anymore that Correa has not had a good start to the season, considering his previous performances. Meanwhile, Jeremy Pena is displaying proper class.
This consistent performance by Pena has relieved the Astros fans as everyone was worried about the spot Correa left. But this current Pena, with his vicious swing and speed, is helping the Astros win games.
ADVERTISEMENT
Article continues below this ad
Despite Pena's performance, the Astros are currently third in the AL West Division with 12 wins and 11 losses, whereas the Twins are leading the AL Central Division with 14 wins and nine losses. The important factor one must not forget is that the man is Carlos Correa, and we know him for bouncing back and performing even better than what he played in previous seasons.
WATCH THIS STORY: WATCH: Carlos Correa Blasts First Home Run for Minnesota Twins Against Tampa Bay Rays