"How Did They Make This Deal"- Boston Red Sox Surprise the MLB World With an All-Star Addition
Published 01/19/2023, 7:19 AM EST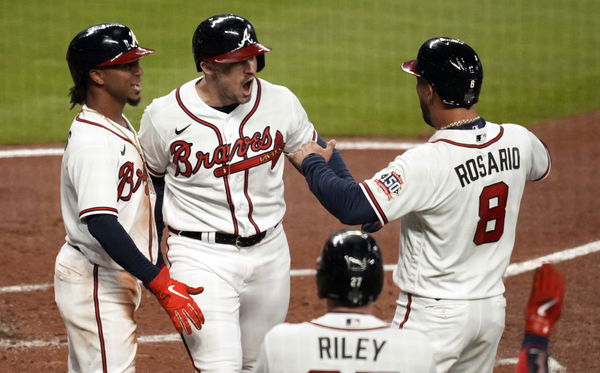 Boston Red Sox are in a bit of a pickle heading into the 2023 season. With key players like Xander Bogaerts and J. D. Martinez departing in free agency and shortstop Trevor Story being injured, the team is in dire need of a power boost in their lineup. 
Enter Adam Duvall, a slugger who could provide the Red Sox with the jolt they need. The Red Sox surprised everyone with their new All-Star addition. Duvall could prove to be a much-needed valuable asset to the revamped Red Sox roster.
Boston Red Sox fans seem happy with the addition of Duvall
ADVERTISEMENT
Article continues below this ad
The Red Sox were in a desperate search for a powerhouse hitter after Story's injury, "Still in dire need of a power bat, the Red Sox have been linked to free agent center fielder Adam Duvall, according to a source," McWilliams, a beat writer for Red Sox said. And seems like their search is over with Duvall, who has bolstered their lineup. 
The team has signed the 34-year-old center fielder to a one-year, $7 million deal. Duvall, fresh off a standout season with the Miami Marlins and Atlanta Braves, led the National League in RBIs with 113, while also clubbing 38 home runs. 
READ MORE: "Tired of Having to See His Face"- MLB Fans Brutally Mock MLB Veteran's $22 Million Boston Red Sox Deal Amid Wild Free Agency
Red Sox fans are thrilled with the acquisition, it seems, eagerly anticipating the impact Duvall will have on the team's offense. Although a few fans were confused as to how and when the deal came to be. One fan replied on a Twitter conversation, "Wait what. How did they make this deal lol."
Wait what. How they did make this deal lol

— 匚卂尺ㄥㄖ丂 🇵🇷 (@SenpaiGeeze) January 18, 2023
And one fan in a cheeky way said, "I'm not sure Duvall can be described as a bat." 
I'm not sure Duvall can be described as a bat.

— Mike Gallagher (@gallagwar) January 18, 2023
Some fans were still concerned over the lack of a shortstop in the team.
Nice pickup, but we still don't have a shortstop 🙄😥

— Big T (@BigSharkT3) January 18, 2023
Some were simply happy over the signing.
Notably, the Red Sox did not have a great season in 2022. And after losing a couple of key players, if the BoSox management does not strengthen their lineup, the 2023 MLB regular season will not be any different.
ADVERTISEMENT
Article continues below this ad
Red Sox's changed roster:
The Boston Red Sox are set to embark on a new journey in 2023 with a revamped roster. The addition of Duvall is certainly something the Red Sox could use. 
Not only Duvall has added a much-needed pop to the lineup, but his arrival has given the team the flexibility to move utility player Enrique Hernandez around the infield, solidifying the middle infield positions, according to FanNation.
ADVERTISEMENT
Article continues below this ad
WATCH THIS STORY:  From Black Betsy to Wonder Boy: Baseball's most iconic bats
It's a win-win for Boston as they look to bounce back from a disappointing 2022 season. How do you think the Red Sox will fare in the 2023 MLB season? Let us know your thoughts in the comments section below!
Edited By: Abhishek Kumar