"How Does This Happen?": New York Mets Fans Left Dejected as Top Star Suffers a Troublesome Injury
Published 03/07/2023, 3:27 PM EST

Follow Us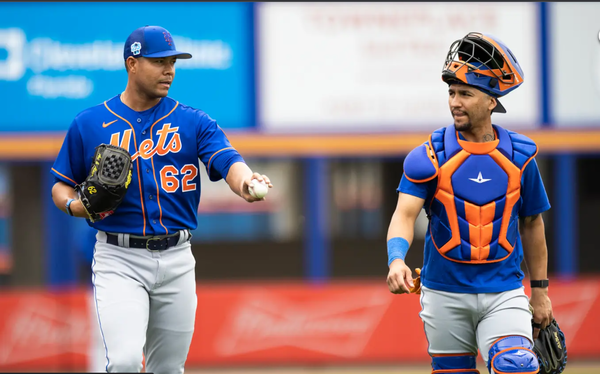 Like many others, baseball is also a physically demanding sport; thereby injuries become an inevitable part of it. With baseball being back in action, players are more prone to injuries and must take extra special care. However, even then, severe injuries can make or break the career of any athlete. Most recently, a New York Mets star suffered a horrific injury while training for the upcoming regular season. Unsurprisingly, the fanbase is disappointed with the news about the athlete. 
Left-hand pitcher José Quintana was diagnosed with a rib stress fracture after suffering from tightness on his side on March 5. After going through imaging, it was revealed that he had a small stress fracture on the fifth rib on his left side. Such an injury hurts more for the fans when the regular season is approaching hastily. 
New York Mets fans are saddened about the team's future
ADVERTISEMENT
Article continues below this ad
The Metropolitans wrapped up MLB's 2022 season with a tremendous 101-61 record. And now, after making some drastic changes in the off-season, they are looking forward to an even better one, possibly a world series win. However, if the recent injury suffered by Quintana puts him on the sidelines for a long time, it might hinder the team's prospects. 
Following are some of the reactions of Mets fans after their ace's injury update. 
Last year degrom with a freak stress fracture now this, how does this happen????

— Chiarielloupholstering (@ChiarielloUPH) March 7, 2023
I ain't a doctor, but i think that kind of injury takes 6-12 weeks to heal on its own. Awful loss for the mets cause he probably won't pitch for the beginning of the season, but it's good that we have depth with Peterson and Megill

— Jacob Piccini (@JacobPiccini) March 7, 2023
Hopefully Megill and Peterson perform well and they don't have to rush Quintana back to the mound.

— Retired Edumacator (@REdumacator) March 7, 2023
Sale had a stress fracture in his rib last year and it caused him to miss half the season. Could dissappear until July.

— LG (@LGLG4545) March 7, 2023
Wonder what the general timeline is for that kind of injury. You're up Peterson…

— ©️hris 🔶 (@iam_c4ris) March 7, 2023
Won't see him until May

— ItsOverJohnny (@LIMetfan74) March 7, 2023
This will bother him all season. Shut him down.

— Warmsundae (@warmsundae) March 7, 2023
According to the fans, Quintana is set to miss at least the first couple of months of the regular season. However, they have also named two pitchers who can take his position. Those two pitchers are David Peterson and Tylor Megill. Needless to say, both pitchers are incredibly qualified to fill in for Quintana. 
ADVERTISEMENT
Article continues below this ad
Cohen has spent quite a lot in the offseason!
Aiming to completely overturn the franchise's image, billionaire owner Steve Cohen spent hundreds of millions to acquire some of the best players for the team. Even Alex Rodriguez, who was a competitor for Cohen in buying the team in 2020, said that the team's owner had done a tremendous job. 
Watch this Story: Biggest moves made by the New York Mets in the 2022 off-season
ADVERTISEMENT
Article continues below this ad
And now, it's the chance for the players to show their skills and impress the fans. However, now they probably have to do it without Quintana by their side for some time. 
How do you think the Mets would play without Quintana, even for a short period of time? Let us know in the comments below!