"I Barreled It"- Mike Trout Reacts After Sailing LA Angles to Win Against Washington Nationals
Published 05/07/2022, 8:30 AM EDT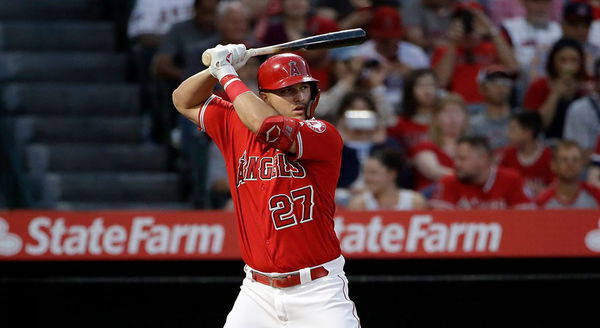 LA Angels superstar Mike Trout is having a wonderful season in 2022. He, along with Shohei Ohtani, has been the reason the Angels are in a better position this season. Known for his big hits, Trout has already smoked six home runs in the 2022 season.
After missing out on most of the 2021 season due to injury, Trout made his comeback for the Angels this season. And how? The Angels slugger has won several games with his hits and home runs. 
ADVERTISEMENT
Article continues below this ad
Trout is such an outstanding hitter that even the opposition fans enjoy watching him batting at the plate. With an experience of over ten years, Trout has established himself as one of the best hitters in Major League Baseball. Recently, in an MLB game against the Washington Nationals, he smacked two hits and won the game for the Angels.
Mike Trout helps the Angels register their third consecutive win
Unlike the last season, the Los Angeles Angels are running riots in the American League West. This time, the Angels have been playing like a team. From the mound, they have Shohei Ohtani and Noah Syndergaard, while Mike Trout and Anthony Rendon are doing their jobs from the plate.
In the first game of a three-game series, the Angels registered a 3-0 win against the Nationals. As always, Trout was phenomenal with from the plate. He hit a two-run double to the Nationals pitcher Joan Adon.
Talking about his game, Trout said that he always looks for a fastball. And when he gets the chance, he just tries to hit.
ADVERTISEMENT
Article continues below this ad
"I am always looking fastball," Mike Trout said. "The second pitch, the one I swung through, I was trying to do too much. I just tried to shorten my swing up and got a pitch to hit, and I barreled it."
ADVERTISEMENT
Article continues below this ad
After this win, the Angels just need one more win to clinch the series against the Nationals. With 18 wins out of 28 games, the Angels are at the top of the AL West standings. Only time will tell how far they will go this season.
WATCH THIS STORY: Here's Why New York Mets Star Pitcher Max Scherzer Was Ejected From A Game Where He Wasn't Even Pitching