"I F**ked It Up 3 Times": Justin Turner Reveals How He Left His Teammates in Splits Just Moments After Brutal Head Injury
Published 03/14/2023, 1:36 PM EDT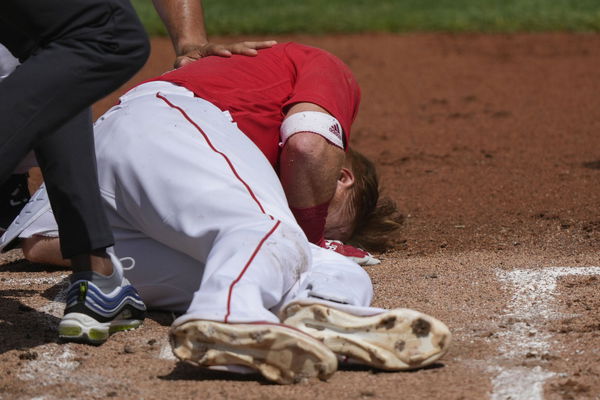 Justin Turner will probably never forget his first season with the Boston Red Sox. The third baseman is now on the mend after taking a scary hit to the face that left him bleeding all over the field. A facial laceration and 16 stitches later, Turner went home with a heavily swollen face and a relieved family. The situation could have been much worse, but in the pro baseballer's own words, he was lucky.
The doctors wanted to check for a concussion, which he didn't have. They wouldn't let him lie down for fear of him choking on his own blood, despite the fact that Turner was ready to welcome the darkness in. He wanted to pass out, plain and simple, and rest his throbbing head. But instead, the medical professionals kept him awake. They hooked him up to an IV and Turner was conscious throughout it all, if barely. And ever the jokester, Turner made his teammates laugh even as he was lying there strapped to a gurney.
Justin Turner's phone passcode made everyone around him crack up
ADVERTISEMENT
Article continues below this ad
As the doctors were examining him, Turner wanted to make sure he contacted his wife, who had tried to rush to the ER. But given his fuzzy-headed state, the pro baseballer was in no condition to call anyone. After three tries of putting in his password, he gave up. Eventually, Turner had to ask the doctor, and when he announced his passcode to the room, everyone started laughing.
The Red Sox player and his wife discussed the situation on her podcast, Holding Kourt. "I tried to put it in three times but I was strapped in and I'm trying to hit it. I fu–ed it up three times, and then finally I'm like, 'Doc, the password is-' and everyone just started laughing," he said.
READ MORE – 48 Hours After Gruesome Injury, Justin Turner Gives Another Encouraging Update
ADVERTISEMENT
Article continues below this ad
Kourtney Turner was on her way to the hospital when her phone started ringing. "I see your name pop up and I'm like, 'What the fu–?! Why is he calling?'" she said. But as it turned out, it was only the doctor, and he told her of the situation. And even she wished no one had seen the dirty phrase!
Looks like things will be okay for the Turners and the Red Sox now
Turner recently gave an update on how steadily he's recovering and even got his stitches removed. He will probably be ready to take the Grapefruit League by storm once again. And if that doesn't happen, Turner expects to at least make it to Opening Day.
ADVERTISEMENT
Article continues below this ad
Even Alex Cora, the Red Sox manager, is hopeful about the situation. "He's gonna do a lot of stuff inside today in the training room and in the gym," he told reporters. "Most likely tomorrow he'll start doing baseball activities — ground balls and he'll hit. I just talked to him. He's in a good spot. He feels really good."
WATCH THIS STORY – Biggest Celebrities Who Support the Boston Red Sox
Edited By: Deepika Bhaduri