'I'm No Bulls**ter'- MLB Hall of Famer David Ortiz Once Used Rival Derek Jeter to Defend the PEDs Claim
Published 08/31/2022, 12:00 PM EDT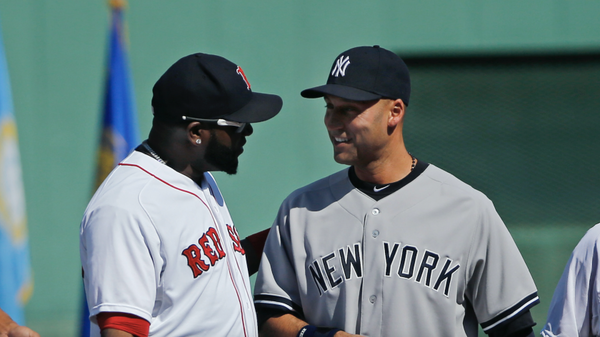 David Ortiz getting into the Baseball Hall of Fame will remain a controversial decision in the game of baseball for many. Notably, MLB did not give the same honor to Barry Bonds and Roger Clemens because of their involvement with PEDs.
MLB has a harsh policy against those players who have used unjust and unethical ways to better their performances. Not to forget that David Ortiz was also one of the 100 ballplayers who tested positive in 2003.
ADVERTISEMENT
Article continues below this ad
Although it does not matter now because he is already a Hall of Famer. But dating back to 2015, the former Red Sox slugger had to defend himself from the accusation of using PEDs. And to do this, he used Derek Jeter's platform and spoke his heart out.
When David Ortiz had to clarify himself on PEDs usage
Per an old report of the New York Post, David Ortiz defended the PEDs claims by using the former Yankees' captain Derek Jeter's website The Players' Tribune. Notably, the sole purpose of this website is to let the athletes speak their hearts out. And Ortiz did the same.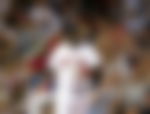 First, he (jokingly) denied that there were no steroids in his blood. And then he also said that even if there were PEDs in his blood, he did not use steroids on purpose.
"The only thing you're going to find in my blood is rice and beans. To this day, nobody has any answers for me. Nobody can tell me what I supposedly tested positive for," Ortiz said in 2015. "They say they legally can't, because the tests were never supposed to be public."
ADVERTISEMENT
Article continues below this ad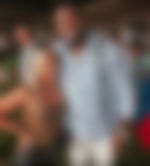 "I'm no bulls**ter. I never knowingly took any steroids. If I tested positive for anything, it was for something in pills I bought at the damn mall. I learned to play the game with my head and my heart and my balls."
Notably, at the end of the day, Ortiz came clean against PEDs. Earlier this year, MLB even honored him with the Hall of Fame induction.
ADVERTISEMENT
Article continues below this ad
Watch This Story – MLB Stars Who Have Been On Both Sides Of New York Yankees vs Boston Red Sox Rivalry 
Given the claims, do you think Barry Bonds should have been in the Hall of Fame ahead of David Ortiz?
Edited By: Rupak Kumar Jha