"Trade Stock Going Up!" – New York Yankees Fans Troll Struggling Shortstop Despite Massive Spring Training Moment
Published 03/12/2023, 6:01 AM EDT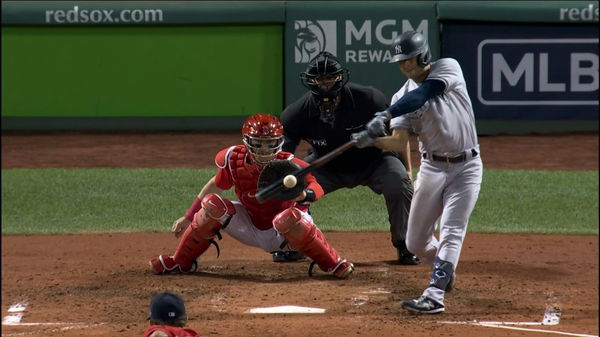 Baseball fans are anxiously waiting for the 2023 MLB season to kick off. As Spring Training rages on, there is less than a month for Opening Day. The New York Yankees have had a relatively average Spring Training so far. They have won some games and lost some as well. Notably, with a number of key players missing the spring training games because of injuries, this was always on the cards.
One player that has been out to prove himself is the Yankees shortstop Isiah Kiner-Falefa. Most recently, he made a big play in the Yankee's latest game, but given his poor record during the 2022 season, IKF received only trolls from fans in response.
New York Yankees fans trolled Isiah Kiner-Falefa after his Spring Training home run
ADVERTISEMENT
Article continues below this ad
Spring Training has been a bit of a disappointment for the New York Yankees. Many expected them to dominate, but they have had an up-and-down run. In a recent game, Isiah Kiner-Falefa smashed a two-run home run in the top of the fourth inning against the Detroit Tigers. This gave the Yankees the lead in the game. But still, it was not enough for Yankees fans to appreciate their shortstop.
Talkin' Yanks shared the video on Twitter. In the Tweet, they said, "IKF hits a nuke to right center field to give the Yankees the lead!" This was a huge play in the game as the Yankees would go on to win 4-3. Kiner-Falefa's homer proved to be a crucial hit.
The reactions to this play have been very negative, with fans trolling the struggling shortstop. 
Some fans said that this hit would increase his trade value.
Trying to raise his trade value, I see.

— Aevhon Magnaye (@evol143) March 10, 2023
Other fans were dreading that this home run would help him stay on the team despite underwhelming performances.
Great. Now he won't be due for another until late July, just in time to save his roster spot before the trade deadline.

— Hoodie Rizzo (@IPAPapi) March 10, 2023
Cashman and Boone will use this clip to start him at short until July

— overconfident sports fan (@scootersports15) March 10, 2023
Every time he does anything remotely productive I cringe because I know it extends his life on the team

— Michael Lombardo (@Maldeuce2) March 10, 2023
There were even fans that seemed to be begging the Los Angeles Dodgers to take Kiner-Falefa. They recently lost starting shortstop Gavin Lux to an injury.
@Dodgers dude has some pop! Could be lethal in that lineup. Just saying.

— Quarantine Papi. (@AllenxCal) March 10, 2023
ADVERTISEMENT
Article continues below this ad
It'll be interesting to see what role Isiah Kiner-Falefa plays this season, but it looks like it won't be the shortstop. Notably, the Yankees youngster Oswald Peraza is probably going to be starting shortstop to begin the season, as things currently stand.
The Yankees are experimenting with their players
During Spring Training, the New York Yankees appear to be experimenting with different lineups. This is both with the infield and the outfield. Isiah Kiner-Falefa has been used at the second base position in their most recent game. This is despite not having played the position at the MLB level since 2018. The Yankees have also played Aaron Judge at the left field position and he has not played there since college.
ADVERTISEMENT
Article continues below this ad
Watch This Story: Is Aaron Judge's $360 million deal the biggest New York Yankees contract of all time?
Many fans are looking forward to seeing what the final starting lineup will look like on Opening Day. What do you think of fans' negative reactions despite Isiah Kiner-Falefa smashing a Spring Training home run? Please share your opinion in the comments below!
Edited By: Abhishek Kumar