"It's a Good Start" – George Springer Slugs 2 Home Runs Against Former Team Houston Astros to Register Win
Published 05/02/2022, 6:00 AM EDT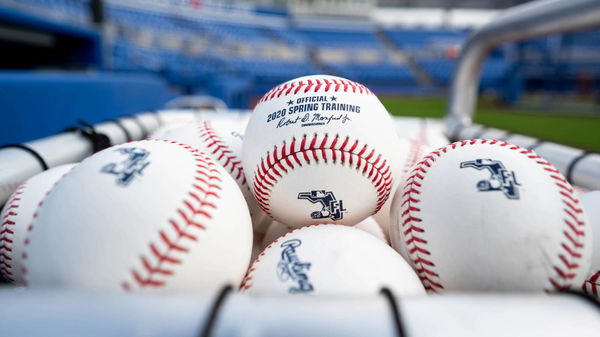 Toronto Blue Jays star outfielder George Springer hit two home runs that helped the Blue Jays win against his former team, the Houston Astros. The home runs helped the Blue Jays win the game 2-1 at Rogers Centre in Toronto.
Springer started his MLB journey with the Astros. He was selected, in the MLB 2011 Draft. After 3 years, in 2014, Springer made his debut in the MLB 2014 season. Then, in January 2021, George Springer signed a 6-year, $150 million contract with the Toronto Blue Jays.
ADVERTISEMENT
Article continues below this ad
The Blue Jays won Saturday's game 2-1 at Rogers Centre, but despite this win, the Blue Jays remain in the second spot of the AL East Division, with 14 wins and eight losses to their name.
Toronto Blue Jays outfielder George Springer hits two home runs
In the 1st inning, George Springer faced Astros pitcher Luis Garcia. Springer hit a high hit to deep left field and scored his first home run of the day. Then, immediately in the 3rd inning, George Springer hit his second home run once again to a pitch by Luis Garcia. Springer's smooth and easy swing helped him achieve the Blue Jays' home run tuxedo for the second time of the day.
After the game, a delighted George Springer expressed his feelings about the home runs and the win. He said, "I love it. As a team, we're in a great spot. This is a team that has to go through it and understand what it's like to do it. It's a good start to April, now it's on to May."
He also added, "Any time you can get the first guy even on base in an inning, it allows guys to hit the way they want to hit. It's a good spot. I'm here for us."
ADVERTISEMENT
Article continues below this ad
Even Blue Jays manager Charlie Montoyo had a few words of joy for Springer. "It's big, what he's doing. It's tough to manage against something like that."
ADVERTISEMENT
Article continues below this ad
32-year-old Springer has now 6 home runs in the MLB 2022 season. And that too in just the first month. Imagine what havoc this player can create provided enough opportunities.
WATCH THIS STORY: Watch: 24-Year-Old Bo Bichette Hits His First MLB Grand Slam to Lead the Way for Toronto Blue Jays Over…