"It's Been Tough"- Bryce Harper Gives Fans an Upsetting Update on Injury
Published 05/13/2022, 10:45 AM EDT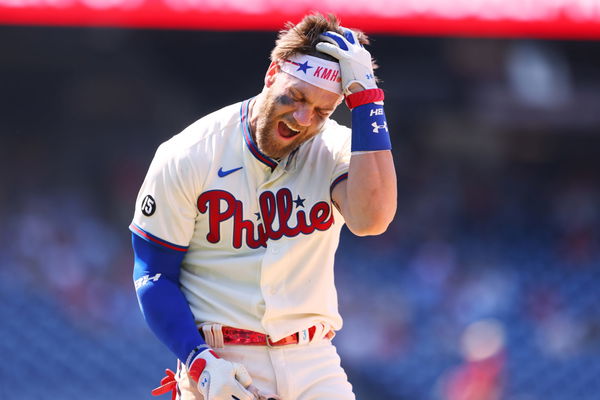 Just a week ago, the Philadelphia Phillies suffered a humiliating defeat against the New York Mets. And now they have even a worse update regarding their marquee player. Yes! The Phillies star, Bryce Harper, has been diagnosed with a small tear in his right ulnar collateral ligament (UCL).
Although Harper will continue to play as a designated hitter, the Phillies star will not be able to pitch for four more weeks. Initially, this injury was just a mere strain on his right elbow. But, as per the recent medical report, Harper has a small tear in his UCL. 
ADVERTISEMENT
Article continues below this ad
Not to forget, he has not pitched since April 17. And now, after a confirmed UCL tear, he cannot play from the mound for at least four more weeks. Thanks to the new rule implemented by MLB, the Phillies star will continue to smash baseballs from the plate.
Bryce Harper to 'miss playing defense' for the Philadelphia Phillies
Two-way players are very much valuable in Major League Baseball. Shohei Ohtani is the prime example of this. If not from the mound, they can compensate for it from the plate. That is the benefit of having a two-way player in the squad. And this UCL injury will cost big time to the Phillies.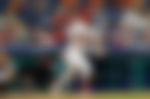 Talking about his injury, the reigning National League MVP said that he misses playing defense. Harper also expressed his desire to help the team from both sides.
"I miss playing [defense]… I miss being out there with my team and playing on the field. It's been tough…," Harper said. "Playing right field has been a grind for me. Just worrying about hitting all day, instead of going out there and playing both sides of the ball."
Harper will get a PRP shot on Sunday
ADVERTISEMENT
Article continues below this ad
As per MLB.com, The Phillies star will get a platelet-rich plasma (PRP) shot on Sunday. And with, Harper will not be available for the series finale against the LA Dodgers. He might also not play against the San Diego Padres.
"I'm glad that I know and have some clarity on where it's going to go from here. That's about it. I'll get the shot on Sunday, see how I feel the next couple of weeks, and go from there," Harper added.
ADVERTISEMENT
Article continues below this ad
What is more remarkable is that even with a UCL injury, he belted a home run against the Dodgers on Thursday. The Philadelphia Phillies eventually won the first game by 9-7. What is your opinion about the seriousness of Harper's injury?
WATCH THIS STORY: New York Yankees Star Aaron Judge's Impressive Workout Routine