"It's the History Channel"- Derek Jeter and Alex Rodriguez Seemingly Ended Their Bitter Feud by Mocking an Interviewer Together in 2017
Published 01/25/2023, 1:08 PM EST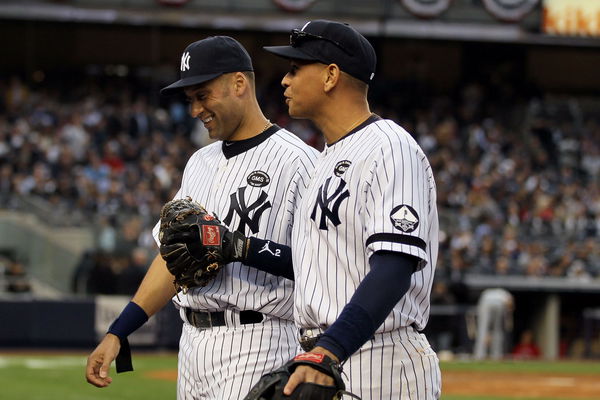 Derek Jeter and Alex Rodriguez, two former baseball phenoms of the New York Yankees, have had a complex and dynamic friendship throughout the years. Despite this, they continued to play together on the Yankees and even led the team to a World Series championship together.
In 2017, Jeter and Rodriguez came together for an interview with Bob Pisani of CNBC, where they discussed charity. However, during the interview, when Pisani asked the former teammates about their rocky relationship over the years, not only did they clarify that the two do not share any beef anymore; but Jeter and A-Rod also took a direct dig at the CNBC reporter. Here is what they said. 
Alex Rodriguez and Derek Jeter were at their usual best
ADVERTISEMENT
Article continues below this ad
Jeter and Rodriguez's friendship has had its fair share of ups and downs throughout the years, and it was no different when Bob Pisani of CNBC asked them about the contents of their strained relationship when they were teammates.
Instead of giving a direct answer, both players instead chose to make light of the situation. Jeter stated, "You're bringing up stories from about 20 years ago, huh?" while Rodriguez did not hesitate indirectly mocking Pisani by saying, "It's the History Channel." 
This playful banter from the two former Yankees players seemed to suggest that they had moved on from any negative dynamics in their relationship. This also seems to indicate that they had indeed put the feud behind them and maintained a level of civility toward each other.
ADVERTISEMENT
Article continues below this ad
The story of Derek Jeter and Alex Rodriguez's relationship
According to Insider.com, the two young shortstop sensations crossed paths at a college baseball game between the University of Michigan and the University of Miami. Alex Rodriguez was immediately taken by Jeter's skills on the field. In the years after that, the two quickly formed a bond as they continued to rise through the ranks as two of the brightest stars in the baseball world. 
When A-Rod joined the Yankees organization, their friendship deepened, and the two were often seen as close best friends. However, as their careers progressed, competition led to tension between them when the media often pitted them against each other.
ADVERTISEMENT
Article continues below this ad
WATCH THIS STORY: Derek Jeter Net Worth: How rich is the MLB legend compared to Michael Jordan, LeBron James, and Stephen Curry
As Jeter neared the end of his career and Rodriguez became embroiled in a PED scandal, their relationship became strained. But, it seems like time has mended their friendship, though they are certainly not as close as they once were.
Edited By: Abhishek Kumar